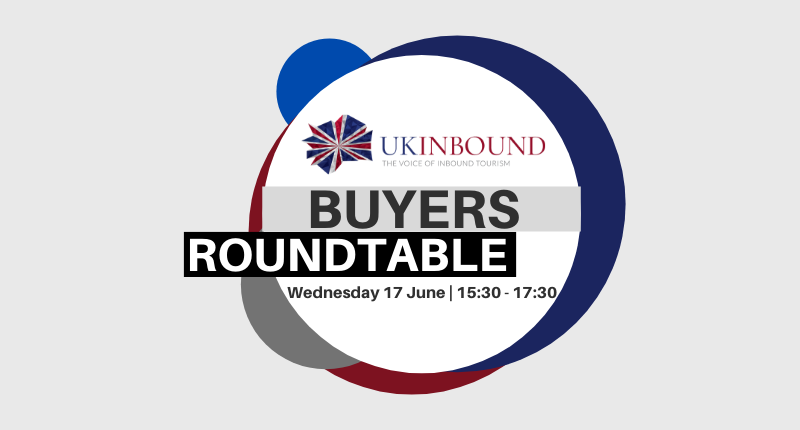 ADDITIONAL SPACES ADDED!
We're pleased to announce that we have extended the number of available spaces on our virtual Buyers Roundtable and are now able to accommodate multiple representatives from each member company. Register your place now and join us to discuss the main challenges and issues facing this sector of the inbound industry, share best practice ideas and what solutions might be put in place to ensure its longevity.
The session will provide an overview of current industry trends and key Association activity during the pandemic and Paul Gaffney, Associate Director of Tendo Consulting will provide an update on current Government thinking, its priorities going forward and what this could mean for the UK tourism and hospitality industry.
Attendees will then take part in two breakout discussion sessions:
BREAKOUT ONE – Reinventing Your Business In A Smaller Industry
This session will be led by Kelly Strong, Managing Director at Strong Recruitment and Ami Naru, Partner and Head of Employment at Travlaw LLP and moderated by UKinbound Chair James Aitken and Board member Roberto Pardal, Director, EuroWelcome.
These experienced professionals will provide you and your business with an overview of the current recruitment market and likely forward trends and some invaluable best practice ideas to make your business more efficient and streamlined.
BREAKOUT TWO:  What Does Your Business Need to Recover?
This session will be led by UKinbound Board members Lana Bennett, CEO of Tours International and Tricia Handley-Hughes, Director, Pinpoint Britain.
Do you know when the best time will be for your business to invest in marketing and what channels?  Have you secured rates from your suppliers for 2021 and what exhibitions are you considering?  Lana and Tricia will help you explore all of this and more in this session.

This virtual event is free and exclusively for UKinbound BUYERS members to attend. Places for the roundtable are limited for this event, and therefore will be allocated on a first-come, first-served basis.
To secure your place, please follow the link above to register –  if multiple colleagues from the same company wish to join please register each one separately to ensure they receive the correct link and joining instructions. 
An automatic confirmation will be sent out once you have registered please ensure you check your junk. The main sessions will be recorded so if you are unable to attend please let us know and we will share the recording and presentation with you.