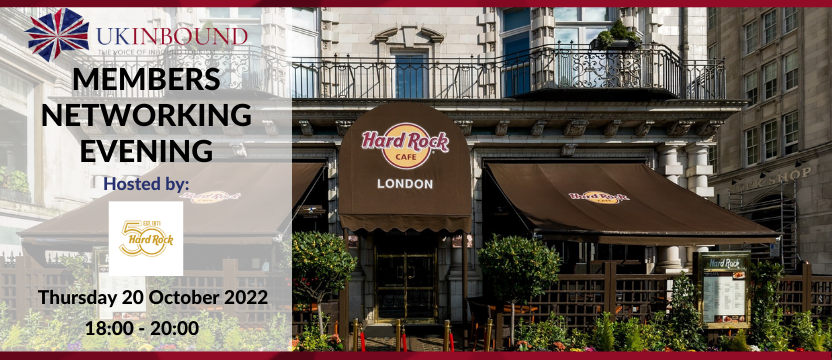 **SAVE THE DATE**
Thursday 20 October 2022
18:00 – 20:00
We look forward to welcoming our members to our Members' Networking Evening on Thursday 20 October 2022, kindly hosted by Hard Rock Cafe.
Standing proudly on London's Old Park Lane for over 50 years, Hard Rock Cafe London is the founding cafe that started the legend that is Hard Rock. Ready to cater for groups and families of all sizes, experience the difference of Hard Rock's service with our energetic and enthusiastic staff.
Walk in and be wowed by walls adorned with authentic, one-of-a-kind memorabilia from decades of Rock history, including Hard Rock's very first piece of memorabilia – the iconic red guitar given to Hard Rock Cafe London by Eric Clapton. No visit to Hard Rock Cafe London is complete without a visit to the Vault.  Explore London's only Rock 'N' Roll museum – a treasure trove featuring the most valuable pieces of music memorabilia from across the globe.
Venue: Hard Rock, 148 Old Park Lane, London, W1K 1QY
How to book: Once bookings open, an invitation will be sent out to all UKinbound members with a unique booking link.
Due to high demand and the limited availability of Members' Networking Evenings, UKinbound has implemented a No Show and No Cancellation Policy whereby members who do not attend an event they have signed up for without cancelling will be sanctioned.
With thanks to: