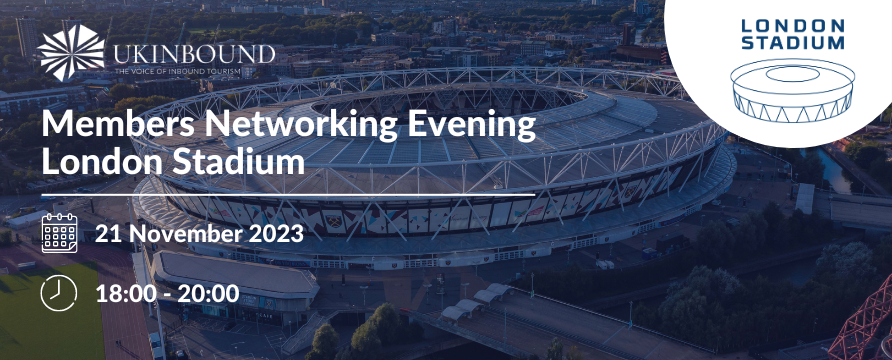 BOOK YOUR PLACE
Tuesday 21 November 2023
18:00 – 20:00
We are pleased to invite members to our Members' Networking Evening on Tuesday 21 November 2023, kindly hosted by London Stadium.
Join us to connect with members, meet new contacts and discover new business opportunities in a relaxed and informal setting.
London Stadium is an unforgettable and unique venue located in East London, Stratford. Built for the London 2012 Olympic games, it then transformed into the home of West Ham United and UK Athletics, and hosts many memorable sporting and arts events. It is one of the world's most versatile venues and prides itself on the diversity of the events and spaces  available for hire. The stadium features a distinctive design with a bowl-shaped seating arrangement and a partially covered roof, which allows an excellent view from every seat.
Overall, the London Stadium is a significant landmark in London, with a unique history that combines its role as the former Olympic venue and as the new home to a variety events.
Venue: London Stadium, E20 2ST
How to book: An invitation has been sent to members, if you haven't received it and would like to register for this event, please contact the team at [email protected].
The Networking Evening is free for members to attend. Due to high demand and limited capacity, places are limited to TWO delegates per member company. If you would like to add a second delegate to the waiting list, please send an email to [email protected].
Due to limited capacity and to minimise waste, UKinbound operates a No Show and No Cancellation Policy whereby members who do not attend an event without cancelling in advance may be sanctioned.
With many thanks to: