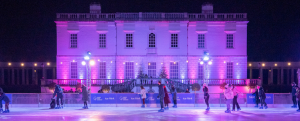 BOOK YOUR PLACE!
Monday 13 December 2021
18:00 – 20:30
Join us at the Queen's House Ice Rink this winter as a magical open-air ice rink takes centre stage once again in the beautiful grounds of Royal Museums Greenwich. Set in a UNESCO World Heritage Site, the rink is surrounded by iconic architecture, with views of Greenwich Park to the south and the glittering lights of Canary Wharf to the north, providing a backdrop of some of the best views in London.
"There is no doubt that the Queen's House Ice Rink is one of London's most captivatingly beautiful" Time Out London
PROGRAMME
18:00 – 18:40: Arrival, hot drinks and cookies
18:40 – 18:50: Get ready to ice skate
19:00 – 19:45: Ice skating session
19:45 – 20:30: Mulled wine and minced pies
20:30: Carriages
Location: The ice rink is located outside the Queen's House on Romney Road, SE10 9NF in Greenwich.
To plan your journey and find out more about getting to Royal Museums Greenwich, click here.
Find out more at https://www.rmg.co.uk/queens-house/attractions/queens-house-ice-rink/faq
Please note that Uber Boat by Thames Clippers is kindly offering free single or return journey tickets to and from Greenwich on the day of the FAM trip.

There are a very limited number of places available for this event, and therefore will be allocated on a first-come, first-served basis. Please note, bookings for this event must close on Monday 6 December 2021.
Please note that this event is for BUYER MEMBERS ONLY and restricted to ONE representative per member company.
If more than one person registers from the same company, the additional booking will be added to a waiting list. If this is the case with your booking, we will let you know that you have been added to the waiting list and that we cannot confirm your place unless we receive some cancellations prior to the event.
WITH THANKS TO: