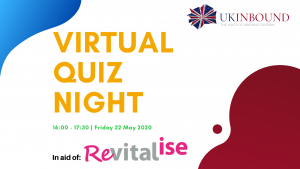 REGISTER NOW!
Join us on Friday night for our first ever virtual quiz!
Let's stay connected and stay entertained! Join us this Friday as we launch our brand new Virtual Quiz Night in aid of our charity partner Revitalise! 
Our host and General Secretary, Daryl Bennett will be testing your general knowledge this Friday 22 May from 16:00 – 17:30 with a brilliant quiz that you can enjoy from the comfort of your living room.
Revitalise continue to carry out their vital work during this pandemic by providing essential care support and a safe environment, for any disabled person who would be safer at Revitalise than they are at home. However, their work is not done, and they still need our support to reach many more during these difficult times.
How will this going to work?
All you'll need is a pen and paper and a glass of cold refreshment! This will be just like a normal quiz night but using clever technology to bring us together.
The quiz will run on Zoom – you can do it on your phone, but a laptop is easier if possible as you'll be able to read as well as hear the questions that way. More details on how to participate will be sent after registration- we promise it will be super easy!
There will be four rounds of ten questions, and players should record and mark their own answers. It is just for fun but no cheating please – we know you're better than that!
Feel free to invite others, but just make sure all players joining from different locations have registered so they can join the fun.
This sounds great, how do I sign up?
The quiz is free for all, but we are encouraging all players to donate to play!
UKinbound has set the challenge of fundraising £500 by hosting the Virtual Quiz Night and whatever we raise will go straight to Revitalise's Emergency COVID-19 Appeal. If you are planning on playing, we suggest a donation of £5 per player!
Online registration will close at 14:00 on Friday 22 May. If you have any quiz-tions or you miss online registration please contact the Events Team.

I've got other plans – how do I donate?
It's a shame to hear that you can't join us – but don't you worry! We will make a self-marking quiz available with the same questions online for you to do in your own time.
If you could still donate to our wonderful cause – that would be hugely appreciated!