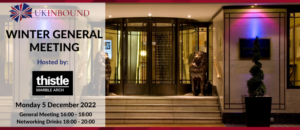 **SAVE THE DATE**
Monday 5 December 2022
16:00– 20:00
We are pleased to invite members to our Winter General Meeting and Christmas Networking Drinks taking place on Monday 5 December 2022 at Thistle Marble Arch, kindly hosted by glh Hotels.
Thisle Marble Arch – part of the glh Hotels portfolio, is a unique hotel situated in an outstanding central London location. With excellent modern, facilities and features, as well as comfortable, modern rooms and expert staff, we're sure you'll enjoy your time at one of the best hotels near Hyde Park. A stone's throw from shopping hotspots such as Oxford Street, Regent Street and Mayfair, as well as a host of famous London landmarks including Madame Tussauds, Thistle Marble Arch is truly based in an outstanding excellent location.
glh Hotels is London's largest Hotel Owner / Operator, with over 5000 rooms and 150 flexible meeting spaces in the heart of our great Capital City.
Venue: Thistle Marble Arch, Bryanston St, London W1H 7EH
How to book: Once bookings open, an invitation will be sent out to all UKinbound buyer members with a unique booking link.
All member companies are entitled to representation at the Winter General Meeting. Please note, this event is open to UKinbound members only and is free to attend.
Places are limited to TWO representatives per member company for the General Meeting and Networking Evening at Thistle Marble Arch. There are no limits on the number of people per member company who wish to join the General Meeting live stream.
THANKS TO