How did your tourism business or organisation mark #EnglishTourismWeek19 last week?
I started off the working week by attending the excellent English Tourism Week conference in London – now in its second year – organised by The Tourism Alliance.
Tourism Minister – Michael Ellis MP opened the conference and spoke warmly and positively about the tourism industry (but also alluded to the large elephant in the room beginning with B – more of which later!) and his keenness to secure a Sector Deal for the industry.  Delegates also heard from Baroness Doocey who said what many in the industry have been thinking and saying for years – namely that tourism needs to be higher up the agenda for MPs and Ministers.  She acknowledged that the Liberal Democrats also fell short when it came to tourism informing us that the party's tourism plan had not been updated since before the founding of AirBnB (2008 in case you were wondering).  She asked for new and fresh ideas to incorporate into their tourism plan and UKinbound will be writing to the Baroness with our thoughts in the next few weeks.   It was music to my ears to hear her supporting a cut in VAT for tourism, more regulation for the sharing economy and help with creating more opportunities for young people.  All of which UKinbound would wholeheartedly support.
Of course Brexit is a worry for us all at the moment, so it was refreshing to hear from MEP Lucy Anderson  who told delegates she is optimistic that post Brexit, the EU will still see the UK as a trusted friend and partner and that they are keen to maintain a common approach for tourism with the UK.  Let's hope so.
On a lighter (and non Brexit related note!) – my team helped to organise a fam trip to the wonderful Brooklands Museum in Surrey last week and we also supported the launch of a new visitor pass for Oxford.  We also encouraged our members to get in touch with their local MP to invite them to take part in Tourism Constituency Day on Friday 5 April and we have been encouraged by the interest shown by MPs this year.  Maybe the message is getting through after all!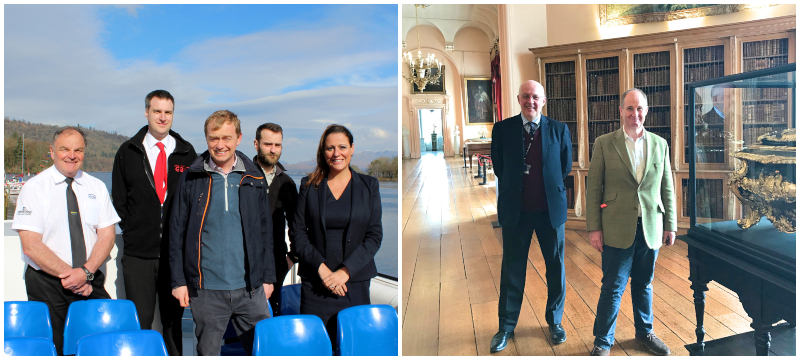 Tim Farron, MP for Westmorland and Lonsdale visited our member Windermere Lake Cruises and we are grateful that the weather was kind for his trip on the Lake which enabled Jen Cormack and her team to show off the fantastic scenery in all its glory!  Tim then enjoyed a tour courtesy of another UKinbound member – Mountain Goat Tours. Kevin Hollinrake MP visited beautiful Castle Howard and Daniel Zeichner MP paid a visit to Scudamore's Punting in Cambridge.  We were delighted that The Rt Hon Greg Clark MP (Secretary of State for Business, Energy and Industrial Strategy) also took time out of his schedule to pay a visit to one of our newest members – Bewl Water in Kent and I understand that he will also be meeting with member Tours International at the end of next month.
Oxfordshire MPs also showed their support for tourism, and you can read more about this here.
We also published two new pieces of research last week.  One was in partnership with Qa Research on how UK tourism businesses can target the increasingly valuable Chinese market and the other was our latest Business Barometer results.  This showed that whilst bookings, revenue and confidence amongst our members for the most part remain steady, unsurprisingly some of our members are currently experiencing a decline in bookings from European markets such as France, Germany and The Nordic countries.  Fortunately, the Americans and Chinese don't appear to be that bothered about our ongoing wranglings with the European Union and the future continues to look strong for both these markets.
With best wishes for a busy summer season for us all!
Joss Croft
CEO
Categories