Welcome to our Member Spotlight series, which highlights members that go above and beyond, offer unique services, or have extraordinary and compelling stories to tell. This month we are delighted to feature IGLTA, the world's leading global travel network dedicated to connecting and educating LGBTQ+ travellers and businesses that welcome and support them along the way. 
---
The UK is recognised as one of the best countries for LGBTQ+ rights in Europe, with advances towards equality including legalising same-sex marriage to introducing the Alan Turing law. This year the UK will also be hosting its first global conference on LGBTQ+ rights, 'Safe To Be Me', which will focus on making progress on legislative reform, tackling violence, discrimination, and ensuring equal access to public services for LGBTQ+ people.
However, attitudes towards LGBTQ+ travellers around the world can still be very different from those in the UK. Associations such as IGLTA provide important, free travel resources and information whilst working to promote equality and safety for LGBTQ+ travellers worldwide.
This Pride Month, we spoke to LoAnn Halden, VP Communications at IGLTA, VP Communications, to find out more about the work of the organisation and what businesses can do to ensure they are LGBTQ+ friendly.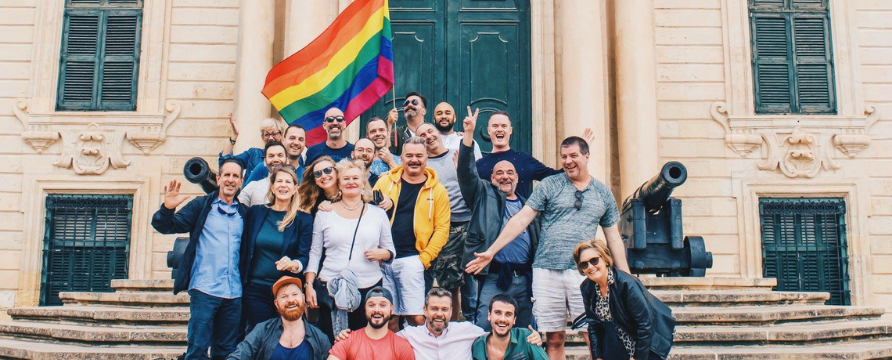 @coupleofmen/© 
Thank you for taking part in our Member Spotlight series. Can you tell us a little bit about IGLTA, and your role in the organisation?
IGLTA is dedicated to advancing LGBTQ+ travel globally. We provide free resources and information on LGBTQ+ travel to both travellers and tourism professionals and work continuously to demonstrate the social and economic benefits of supporting LGBTQ+ welcoming tourism. Our efforts are complemented by our amazing network of members and partners in approximately 80 countries. My role is Vice President-Communications, so I direct the internal and external messaging about IGLTA, manage press requests and speak on panels to further our education initiatives.
What are some of the most rewarding parts of your job (or a highlight)? And the most challenging?
I'm very fortunate that IGLTA unites my passions for LGBTQ+ activism and travel, and I'm particularly proud to support our charitable IGLTA Foundation as well, which drives our education, research and leadership projects. We have a Fellowship program that brings LGBTQ+ small business owners to our convention for networking and mentorship and I've met some truly inspiring individuals that way. It's challenging to try and break through the barriers of fear and misinformation that fuel ongoing discrimination against LGBTQ+ people around the world. And it's equally challenging to convince destinations with positive laws on the books and visible LGBTQ+ communities not to that take that for granted; it's still essential for them to get involved and speak up on behalf of inclusive tourism.
As the leading association for LGBTQ+ welcoming tourism businesses, what are some of the ways that IGLTA supports its members in engaging with and welcoming LGBTQ+ visitors?
We have created a series of travel guides as a way of providing practical information for LGBTQ+ travellers while also directing them to our LGBTQ+ welcoming business members. We have a consumer newsletter that goes out every two weeks that also showcases our members and partners. During the pandemic, we developed Members Connect, a series of online meetings to provide an outlet for networking and continuing education; they have worked so well, that they are now a permanent part of our member support system. Not everyone can attend our in-person convention, so these online sessions really have allowed us to engage more of our global members.
We're very proud that the UK is recognised as one of the most welcoming and inclusive destinations for LGBTQ+ visitors. What do you think we get right as a destination? And is there anything we could be doing better?
VisitBritain has always done a good job of creating inclusive international marketing campaigns that demonstrate a commitment to keeping LGBTQ+ travel top of mind. But even within LGBTQ+ inclusion there is an opportunity to showcase more diversity—just as the UK contains a melting pot of cultures, so does its LGBTQ+ family of residents.
What are some of the steps that tourism businesses can take to ensure that they are LGBTQ+ friendly (or friendlier)?
Inclusive marketing and messaging are wonderful, but it's also important to take a step back and look within. Does everyone on your team feel comfortable addressing nonbinary guests? Do they treat a same-sex couple equally to a heterosexual one? Diversity training is a great gift for any team. We can all learn how to be better. We also always encourage tourism businesses to get to know their local LGBTQ+ community leaders; they can find a wealth of information there to help them better serve inbound clients.
And are there any common misconceptions or unintentional mistakes businesses can make when marketing to or working with LGBTQ+ travellers?
Making assumptions is the root of most mistakes when it comes to identity or sexual orientation, from assuming two men traveling together are just friends to addressing a transgender woman as sir based on assumptions about appearance. Don't assume! Also, taking a gender neutral approach to language in marketing materials is a quick, easy way to create comfort for everyone.
In addition to being welcoming to LGBTQ+ visitors, what are some key things businesses do to ensure that they are also inclusive and welcoming places to work for LGBTQ+ staff?
In addition to staff diversity training, it's also important to evaluate internal business policies. Does your recruitment strategy encourage LGBTQ+ applicants? Do personnel policies provide equal treatment for same-sex married employees and/or parents? And never underestimate the value of providing a private, gender-neutral bathroom.
As the world starts to reopen for international travel, what are some of the trends we can expect to see amongst LGBTQ+ travellers, and what are you most looking forward to?
Many of the trends will mirror those for non-LGBTQ+ travellers, such as a greater desire for nature and open spaces and seeking out advisors who can navigate the ever-changing rules of travel on your behalf. There's a "no time like the present" mentality, and we're seeing people starting to plan big dream trips sooner rather than later. IGLTA's recent LGBTQ+ travel sentiment survey also showed a strong interest in Pride events, indicating the desire to reconnect with our family of like-minded travellers after so much isolation.
As for me, I'm just looking forward to travel, period. 2020 was the first year in a very long time that I didn't visit a new country, and I'm pondering my options now. Leaning toward Slovenia.
You can find out more about IGLTA and their free resources and information on LGBTQ+ travel here.
Categories