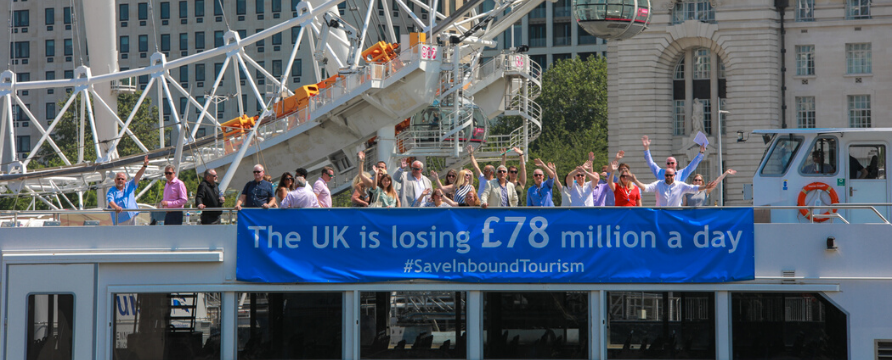 On 20 July, UKinbound released fresh data showing that 87% of inbound tour operators and destination management companies (DMCs) have lost more than 95% of their 2021 business due to a lack of clarity on opening. The survey also found that more than a quarter (26%) of respondents forecast no business at all for the remainder of 2021, having now missed the summer season, whilst over half (53%) expected to make 10% or less of their 2019 revenue this year.
As the wider UK economy starts to reopen, UKinbound and over 30 of its members took to the water to highlight why 'Freedom Day' was anything but for the inbound tourism industry. The group delivered a fresh message to Government highlighting the vast amount of export earnings lost by the UK daily due to a lack of inbound tourism, and asked for urgent support for the industry, including:
Tourism Export Recovery Fund
Extension of furlough to April 2022
Mutual recognition of COVID vaccination status with key inbound markets
Normally worth more than £28 billion per year to the UK economy, the inbound tourism sector has had practically no business since March 2020, resulting in a loss of £78 million per day.
Earlier this month UKinbound submitted a proposal to Treasury for a Tourism Export Recovery Fund. The proposal calls for an allocated fund that would allow inbound tour operators and DMCs to apply for a capped grant award based on their 2019 revenue levels. This investment, totalling £47 million for the UK's c. 230 tour operators and DMCs – and which is less than 60% of UK's daily export earnings loss – would enable these businesses to survive until inbound tourism can safely resume at sustainable levels.
The proposal also calls for an extension to the Coronavirus Job Retention Scheme until April 2022. With 77% of tour operator and DMC staff still on furlough, and with no incoming business for the foreseeable future, the removal of the scheme from 1 October will be devastating for the sector. Many inbound businesses particularly tour operators and DMCs, have been excluded from previous Government support schemes due to their B2B nature, and now face a second year with no revenue and virtually no financial support.
Alongside this, UKinbound is urging Government to rapidly implement vaccination certification reciprocity for inbound markets, as it has done for outbound travel and for UK citizens returning from amber list countries.
Joss Croft, CEO, UKinbound said, "With the rest of the UK economy opening up, the UK economy continues to lose £78m a day in exports due to a lack of inbound tourism, and hundreds of previously profitable businesses that provide valuable revenue to local economies and sustain thousands of livelihoods all across the country are on the brink of collapse, through no fault of their own.
"We urgently need Government to implement COVID vaccination reciprocity for our key inbound markets to allow inbound travel to return as quickly and safely as possible. However, with the summer season lost, and members reporting cancellations through to the end of the year, even a rapid reopening of inbound tourism will not be enough to save many of these businesses, which are now facing a second year – and a fifth winter – with no income or support.
"2022 will shine a global spotlight on the UK as we host and celebrate the Commonwealth Games in Birmingham, Festival UK 2022, and the Queen's Platinum Jubilee, and presents a fantastic opportunity for the UK to showcase its world-class welcome and tourism offer. Tourism can deliver the government's Global Britain agenda, but the country will not be able to reap the full financial and reputational benefits without a successful inbound tourism sector in place to convert pent-up demand into bookings. These businesses promote, sell and funnel business and revenue to all corners of the country, and through multiple sectors.
"As the rest of the UK economy opens up, the Government absolutely has to provide specific support for these inbound tourism businesses to enable their survival until the return of the market so that UK tourism can make its vital contribution to our national economic recovery and maintain its position as a desirable and globally competitive destination, and that needs to happen now."
Click here to view more images from the#SaveInboundTourism Boat Event.
Categories