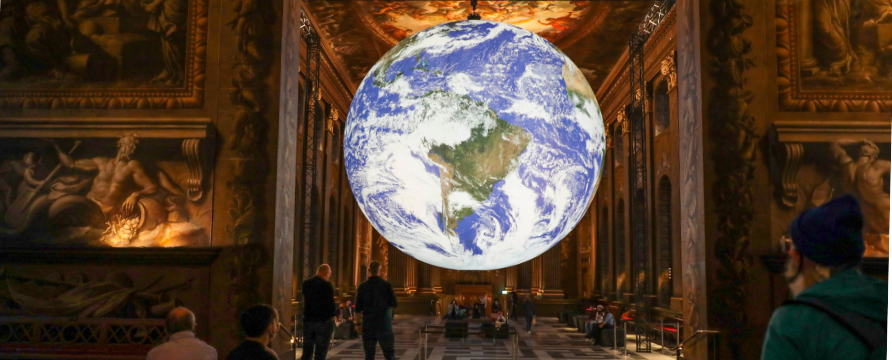 Following popular demand, the Gaia will be returning to the Old Royal Naval College this summer. The installation will be displayed in the Painted Hall for a month, including late-night openings. The monumental sculpture by Luke Jerram rotates slowly while suspended in mid-air, an exact scale replica of Earth using NASA imagery.
The artwork aims to inspire a sense of the 'Overview Effect' that astronauts experience when they see Earth from space – feelings of awe, and an understanding of the interconnection of all life, particularly profound after a year when many people have been unable to connect with others due to the pandemic. Gaia acts as a mirror to society to provide the viewer with a new perspective of Earth, its outdoor spaces and nature, and the importance of being connected.
The internally-lit Gaia is 1.8 million times smaller than Earth, with each centimeter of the sculpture representing 18km of the Earth's surface. By standing 211 metres away from the slowly rotating artwork, viewers can see the Earth as it appears from the moon while enjoying a specially made surround-sound composition by BAFTA award-winning composer Dan Jones. The sculpture provides an amazing opportunity for visitors to the Painted Hall to view Earth as it appears from space, floating in three dimensions like a 'blue marble'.
Gaia Friday night openings will illuminate visitors' worlds every Friday in June. These exciting late-night openings will allow visitors into the Painted Hall after hours and include extended hours on the first day of opening, Sunday 30 May, and Sunday 6 June. The late-night openings will also include after hours access to the Painted Hall Café to enjoy food and drink along with the Baroque and contemporary art upstairs in the Hall.
Matthew Mees, Chief Executive of the Old Royal Naval College commented, "The wonder of Gaia as a thoughtful and illuminating work of art needs to be seen to be believed, especially against the magnificent Baroque setting of the Painted Hall at the Old Royal Naval College. We were overwhelmed with the response it received last year and so are delighted to be given the opportunity to install Jerram's thought-provoking work again and to give more people a chance to visit and experience it for themselves."
The Painted Hall will be open as usual during the Gaia installation and talks and events will be continued as programmed. Gaia was previously displayed at the Old Royal Naval College as part of Greenwich+Docklands International Festival 2020.
The Old Royal Naval College has reopened its outdoor grounds, café, and gift shops. There will be digital events including award-winning playwright Adola Solanke's Phillis in London, set in the Painted Hall, and online drawing workshops held by illustrator Nick Ellwood this month. The Old Brewery is reopening for outdoor dining, and there will be pop-up food stalls outdoors every weekend, with picnic baskets and deck chairs available for visitors.
Time and Dates
Gaia:
30 May – 1 July 2021, 10am-5pm
Gaia late-night openings:
30 May – 5:30pm – 10pm
6 June  – 5:30pm – 10pm
4 June – 5:30pm – 10pm
11 June – 5:30pm – 10pm
18 June – 5:30pm – 10pm
25 June – 5:30pm – 10pm
Find out more about tickets and booking info for Gaia.
Categories