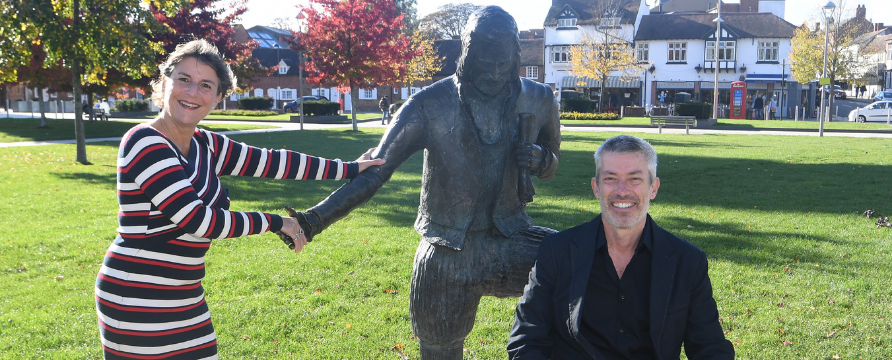 Visitors to Stratford are now able to learn about all the life of William Shakespeare at their leisure by using a brand-new audio tour guide.
Shakespeare's England, in partnership with Vidi Guides, has created a 'Self-Guided Podcast Tour' to take visitors around Stratford, see the key places of William Shakespeare's life, and learn about one of history's most important writers.
The tour can be downloaded at any time. Once a visitor has downloaded the podcast they can simply head to the starting point, press play and enjoy the tour.
Helen Peters, Chief Executive of Shakespeare's England said, "Shakespeare is obviously one of the key reasons why tourists come to Stratford, so having this self-guided tour available allows visitors to learn even more about him. While there are wonderful guided tours still available, it's brilliant we now have a new option for people who simply want to come to Stratford and listen to a guide whenever they like."
"The tour is fantastic – it covers Shakespeare's life right from his birth, all the way until his death, and everything in between. And people who have never been to Stratford before will see lots of landmarks steeped in history and significance. I hope visitors to Stratford who want to learn more about Shakespeare and his connection to the town download the podcast and give it a listen during their visit."
Vidi Guides, who have already created self-guided podcast tours for London, Cambridge, and Paris, made sure to incorporate plenty of key locations and interesting facts about Shakespeare in their new tour.
The 45 minute, 1.3km tour starts at Shakespeare's Birthplace in Henley Street, where the guide takes listeners through Shakespeare's early life. It then moves down to the house of Judith Quiney – Shakespeare's daughter – where it is explained how Shakespeare's real life helped inspire the classic tragedies he wrote. From there, listeners head to the Garrick pub and Harvard House, and then onto New Place and Nash's House while hearing more about the Bard's life.
Listeners can learn about conspiracy theories surrounding Shakespeare's work when they reach his old school, and will hear about the various threads connected to Shakespeare and his family at Hall's Croft. At Shakespeare's grave in Holy Trinity Church, the podcast explains how the Bard is connected to the church and details the mysteries surrounding the grave site. After a stop at the Dirty Duck club, the tour finally ends at The Swan and RSC, where Shakespeare's rich legacy carries on to this day.
Cllr Matt Jennings, Portfolio Holder for Tourism and Economic Development at Stratford District Council said, "Shakespeare is a cultural icon – and we want to make it as easy as possible for visitors to learn about the great man while they are here in Stratford.
"We're delighted that Shakespeare's England and Vidi Guides have produced this superb self-guided podcast tour that visitors can listen to at a convenient time. I'm confident even the most knowledgeable of Shakespeare fans will learn a thing or two from the tour, and I'd encourage anyone with an interest in his life and work to download it."
Alex Jones, COO of Vidi Guides said, "We have a number of tours throughout the UK and beyond but our Stratford-upon-Avon tour is one of our personal favourites. Giving people a unique, independent and engaging way to explore such a world renowned and traditional tourist destination is what Vidi Guides was created for.
"Being able to team up with Shakespeare's England has helped us create an experience that caters to all types of visitors and this is only the beginning. We're now planning our next tours in the region that will be going live later in the year, including various thematic and off the beaten track experiences."
For more information or to download the podcast, please visit Shakespeare's England's website.
Categories