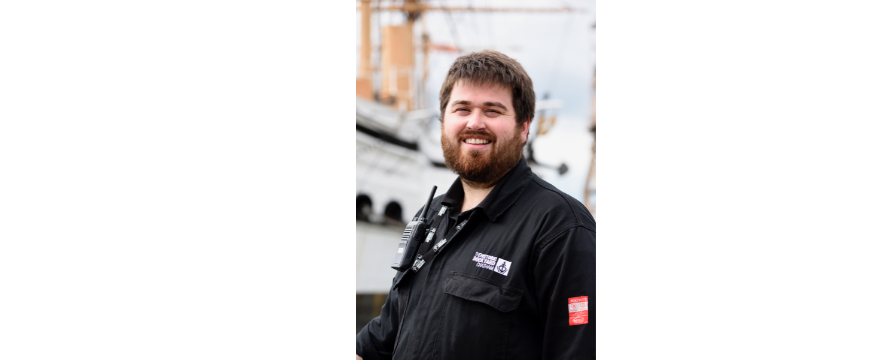 Chatham Historic Dockyard Trust has appointed James Morgan as the new Heritage Engineering and Historic Ships Manager.
James Morgan is responsible for ensuring the Trust's three historic warships, heritage railway and working ropewalk are operationally sound for The Historic Dockyard Chatham's visitors and aligned with its charitable purposes of preservation and learning.
As well as delivering conservation solutions, James will work closely with the Trusts' volunteer body, as part of an ongoing development of the site's heritage assets to enhance visitor experience.
James said, "Our volunteers are the heartbeat of the organisation. Their experience, expert knowledge and commitment are testament to the success of the Dockyard."
"I am excited to be working alongside a team whose passion for heritage engineering is as strong as mine. My appointment is the culmination of a lifetime of fascination with the mechanics of ships and trains, coupled with a rewarding career in engineering.
"History oozes from every structure, ship and corner of the 80-acre site but its people are its best asset and I am keen to continue providing excellence through innovative reuses of such impressive heritage assets"
As a former engineer optimising water infrastructure assets across the region, James joins the Dockyard from Anglian Water. He began his marine engineering profession as an apprentice at shipwright service supplier, Heritage Marine in Essex, where he worked on various heritage projects including the Cutty Sark.
Working with the wider Trust team, James will be supporting the development of a new major ships interpretation project and associated bids to potential funders.
James, who lives in Maidstone with his family, is a regular visitor to the Dockyard and aims to build on the Trust's commitment to enabling young people to choose STEM (science, technology, engineering and mathematics) based career choices. He has a wealth of experience working with children and young adults as a long-time volunteer with national youth charity, Sea Cadets.
Please click here to see what's on at Chatham Historic Dockyard.
Categories