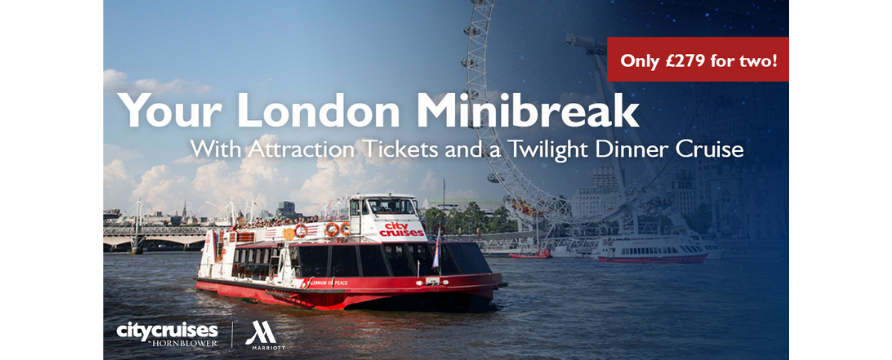 City Cruises has partnered with the London Eye and the London Marriott Hotel Regents Park to bring customers a tempting deal. Guests will be able to take in some of London's breath-taking riverside sights from the open-upper decks of one of City Cruises' boats with their 24-hop-on, hop-off pass.
City Cruises' sightseeing boats depart from three different piers along the Thames: Westminster, London Eye and Tower of London. Passengers can board boats every 40 minutes allowing plenty of opportunities to discover the variety of attractions along the way whilst taking memorable photos. Each of the boats provides guided commentary allowing passengers to deepen their knowledge about London's greatest moments of history. To make the most of their time on their weekend away in London, guests can disembark at the London Eye Pier and head straight to the attraction where they will take their sightseeing experience to a new level.
To make the break extra special, guests will be wined, dined and entertained by a live performer on City Cruises London Dinner Cruise before retreating to the stylish London Marriott Hotel Regents Park for an overnight stay.
This package will be available for two adults or a family of four. The family option will include a relaxing Afternoon Tea Cruise instead of the London Dinner Cruise, The entire family will be able to enjoy the views while tucking into tea, scones and all the trimmings of a traditional afternoon tea on the River Thames. The package costs £279 for two adults or £329 for a family of four and it can be used until 31 May 2021.
All the experiences will have social distancing and enhanced hygiene measures in place. All companies have their customer's well-being at heart and will ensure that guests can enjoy a day out in the safest way possible. Seat capacity on City Cruises boats has been restricted on all cruises to fall in line with social distancing requirements to allow guests to enjoy a cruise with a select number of guests.
To book the London Dinner Cruise or the Afternoon Tea Cruises package, please visit the website.
Categories