The Great West Way has launched a new virtual travel magazine providing a source of inspiration to those wanting to explore England's Great West Way this autumn and in the future.
The Great West Way Travel Magazine offers readers an immersive experience. Amongst the features, there are a number of pop-out videos that help to transport the reader to the destinations on the route from their armchairs. The magazine also directly links to relevant websites which makes planning a trip effortless. After being inspired by the content of the magazine, readers can also click a link to visit the Great West Way website where they can find and download Great West Way maps.
All content included in the magazine is in line with current Government guidelines and promotes responsible travel. The magazine highlights businesses that have secured the We're Good to Go mark that helps to reassure visitors that it has the necessary systems in place to keep them and others safe.
The Great West Way Travel Magazine highlights eateries, accommodation providers and attractions on the route, as well as thematic features showcasing unique destinations on the Great West Way including Experiences After Dark, such as stargazing in Wiltshire or visiting Blenheim Palace's Illuminated Light Trail. Hidden Gardens is another feature in the magazine that lists just some of the Great West Way's many gardens, including the London Wetland Centre, an award-winning nature reserve which brings the countryside to London and is a 'wonderful place for a relaxing walk through the scenic paths that meander among the lakes and gardens.'
Fiona Errington, Head of Marketing, said: "The annual Great West Way Travel Magazine is a great source of inspiration, providing educational features, videos and imagery, as well as direct links to the Great West Way website and its Ambassador's pages, where they can find more information on the route.
"This is the first ever interactive guide to the Great West Way, which we know will be very well received by those that are planning a trip but also by those that are currently armchair travelling and making plans for future travel."
The virtual edition of the Great West Way Travel Magazine will be distributed through the Great West Way newsletter and its social media channels, as well as digital publishing platforms Yumpu and Issuu, with distribution in excess of  25,000. The magazine will also be distributed to 80 Great West Way Official Tour Operators, VisitBritain's international offices and through VisitEngland's marketing channels.
The Great West Way Travel Magazine is supported by VisitBritain's Escape the Everyday, £5 million UK-wide domestic marketing campaign, intended to inspire consumers to travel and enjoy the country's tourism offer.
GREAT WEST WAY SECURES ADDITIONAL FUNDING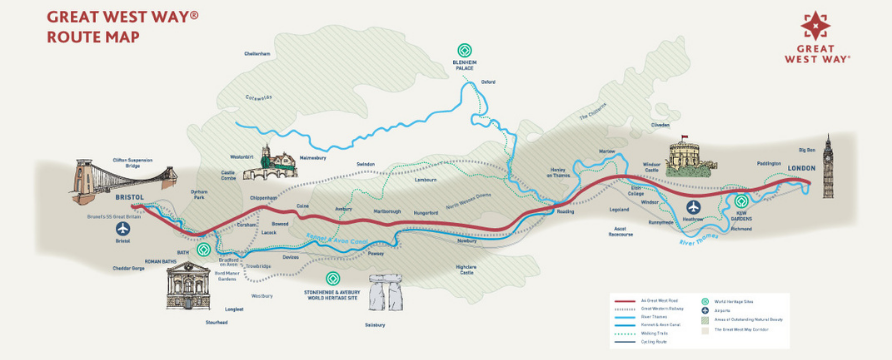 England's Great West Way has received further funding from the Discover England Fund, administered by VisitEngland. Great West Way is one of the 12 initiatives to have been chosen in Year 5 of the Discover England Fund, to help aid tourism recovery.
The Discover England Fund, announced by Government in 2015, was created to ensure that 'England stays competitive in the rapidly growing global tourism industry, and offers world-class English tourism products to the right customers at the right time'. Over a 5-year period a number of large-scale initiatives, as well as some smaller initiatives, put forward a bid to received a percentage of £40million in funding which is administered in stages between 2016 and 2021. Great West Way has benefitted from this funding since 2016 and attracted additional support from 270 investing businesses and destinations on the route.
The funding will allow Great West Way to undertake domestic-focused marketing and PR activity to aid the recovery of the tourism sector, and help maintain travel trade relationships in international markets. In recent months, Great West Way has launched its 'Don't Follow the Herd' marketing campaign, raising awareness of the route and encouraging travellers to explore England's countryside. This month, the Great West Way will also unveil a virtual travel magazine, highlighting destinations, attractions and tourism businesses ready to be explored on the route.
David Andrews, Director at Great West Way said, "The Discover England Funding will go a long way in aiding tourism recovery by helping us showcase to UK travellers what the Great West Way has to offer. Recent research by VisitBritain has forecasted that due to Covid-19, tourism revenue will decrease by *£68.8billion, which equates to a loss of over 1million FTE tourism-related jobs.
"Having the resource available to undertake Great West Way marketing activity, as well as supporting VisitEngland's Escape the Everyday campaign, which Great West Way is included, will generate additional visitor spend and help secure jobs on the route."
Categories