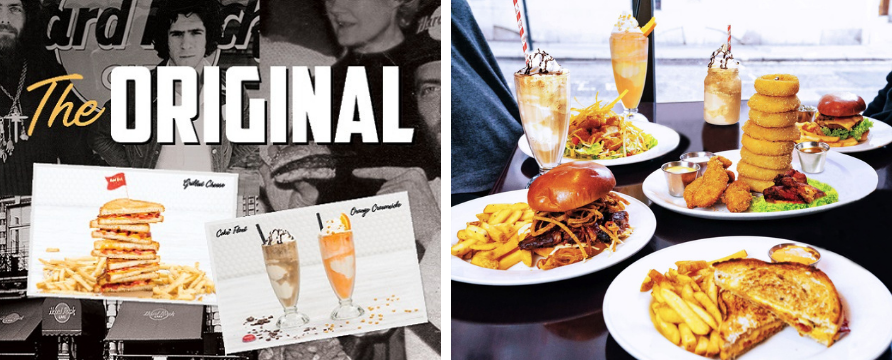 Hard Rock Cafe are celebrating Hard Rock Heritage this year by welcoming back some of their original dishes from over the years and taking a dive into the music, culture and people that have made Hard Rock Cafe what it is today.
The new Hard Rock Orginal menu is available for a limited time only, this menu celebrates the best of Hard Rock's legendary flavours from over the years with classic dishes like The Orginal haystack salad, country burger, grilled cheese, road house rib sandwich and The Ringo. The menu is available for collection from Hard Rock Cafe Piccadilly Circus and Hard Rock Cafe London, or via home delivery on Uber Eats, Deliveroo and Just Eat. Hard Rock Cafe is also now delivering in North London.
The Original Menu
The Ringo – limited time only
Perfect to share – Tupelo chicken tenders, classic wings and crispy onion rings served with BBQ sauce, honey mustard. ranch and blue cheese dressing on the side for dipping.
 Country Burger – limited time only
6oz of the finest ground beef, served double-stacked, topped with American cheese and sprinkled with herbs and spices. Served on a toasted bun with lettuce, tomato, onion, pickles, special dressing and sweet relish on the side.
Round House Rib Sandwich – limited time only
Boneless baby back ribs, house-smoked and smothered in Hard Rock Cafe's homemade BBQ sauce, served on a toasted bun with coleslaw, dill pickles, tangy aioli and topped with crispy shoestring onions.
Grilled Cheese – limited time only
Hard Rock Cafe diner-style grilled cheese, made with American and cheddar cheeses, bacon, and tomato, griddled on sourdough bread. Served with seasoned fries and chipotle aioli for dipping.
Haystack Salad – limited time only
Fresh romaine lettuce, Tupelo chicken tender pieces, carrots, sweetcorn, fresh pico de gallo, tortilla strips and shredded cheddar and jack cheeses tossed with ranch dressing.
For more information regarding the menu or where to order, please visit the Hard Rock Cafe's website.
Categories