To celebrate this once-in-a-lifetime Platinum Jubilee, Hovertravel has organised a unique marine flypast, flying its union flag liveried hovercraft in a 70-mile trip around the Solent on Friday 3 June.
Neil Chapman, Managing Director of Hovertravel explains, "This two-hour trip will see the hovercraft fly west from our base at Ryde to pass the Needles before looping back east to speed past Hayling Island and is Hovertravel's gesture of gratitude to Her Majesty for her 70 years of service to the country.
"Details of the route of can be found on our website and we hope that people come to see the hovercraft fly around the Solent to join in our tribute to our truly unique monarch. We are also inviting the public to capture the most patriotic photo of this extraordinary outing."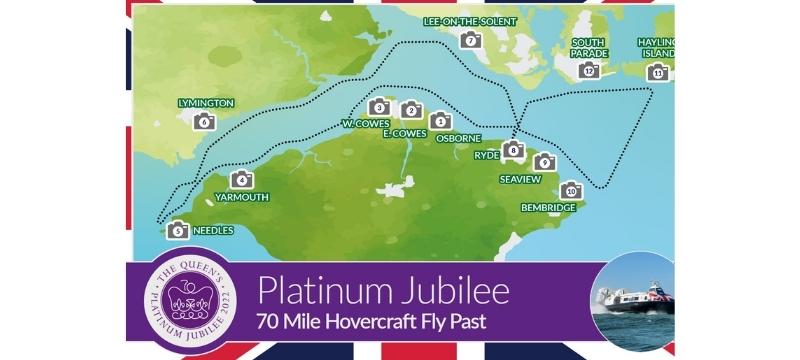 There are 70 day return tickets available as prizes for the most patriotic photos of the Platinum Jubilee flypast. A map of the route and approximate timings along with details on how to enter and full terms & conditions can be found on the Hovertravel website.
Neil adds, "In addition to our flypast on Friday, we are celebrating throughout the Platinum Jubilee weekend with free postcards for all customers and by being part of the Ships Salute on Saturday.
"To create a lasting memento of the occasion Hovertravel has also designed a commemorative postcard which will be given free to all customers travelling over the four day bank holiday Jubilee celebrations"
On Saturday 4 June Hovertravel is also joining the UK Chamber of Shipping's call for all ships in dock to take part in the Ships Salute with a simultaneous long blast on both our craft's horns at 12pm.
Categories