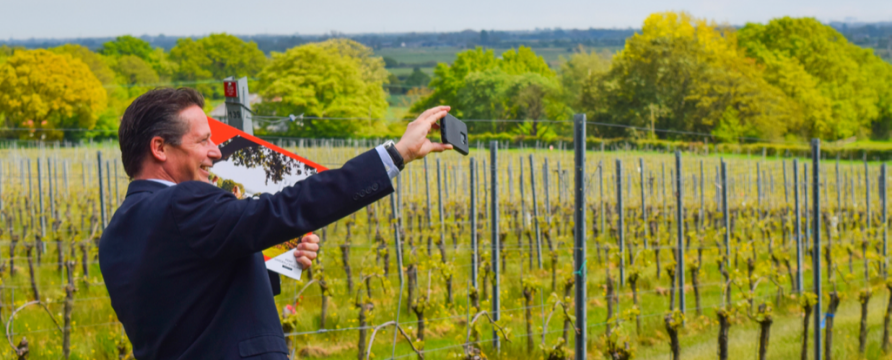 Businesses across Kent welcomed Nigel Huddleston MP, Minister for Tourism and Sport as part of this year's English Tourism Week programme where he enjoyed a tour around the Garden of England from Visit Kent Chief Executive Deirdre Wells OBE.
During his visit, the Minister had the opportunity to experience first-hand a range of flagship products and preparations for key events taking place across the county this year, all of which will be critical in championing the recovery of Kent's tourism and hospitality sector.
Mr Huddleston's visit commenced with a visit to Royal St George's Golf Club where he had an insight into arrangements currently underway ahead of the 149th Open, golf's original and most international Championship, which will be hosted in Kent this July.
His tour also provided an opportunity for the Minister to meet with representatives from Dover District Council, Shepherd Neame, Creative Folkestone, Gusbourne Estate, and even incorporated a visit to the construction site of Folkestone's brand new urban sports park – F51 – which is due to open to visitors for the first time this autumn.
The day's packed programme was designed by Visit Kent to cover a range of sports, tourism, and hospitality interests. It also provided a significant opportunity to discuss how the tourism and hospitality sector across the county have been affected by Covid-19, as well as how businesses across the sector are working hard to welcome visitors back in line with the Government's road to recovery.
The past year has been extraordinarily challenging for Kent's tourism and hospitality sector, which in 2019 was worth £4.1 billion to the county's overall economy and supports 81,458 jobs. The ongoing effects of the Covid-19 pandemic have seen revenue and footfall fall notably, making this year vital for rebuilding a vibrant, sustainable, and resilient industry for the future.
Visit Kent Chief Executive, Deirdre Wells OBE said, "We were delighted that the Minister could join us in Kent today and to see, at first hand, our ambition for Kent's visitor economy as we begin the slow road to recovery. We were particularly pleased to be able to showcase our plans to maximise the opportunity which the 149th Open will bring to the county, as well as the cultural and culinary delights which make Kent the first choice for many visitors. During an extremely difficult year for the industry, the Minister has been a strong advocate for the sector, and we are extremely grateful for the support from him and the DCMS team. We look forward to working with them to rebuild a more sustainable future."
Tourism Minister Nigel Huddleston said, "There is so much to do in this wonderful part of the UK, from golf to wine tasting to beaches, and it's brilliant to see the South East ready to welcome back visitors. Kent really does have something for everyone, and I am grateful to Visit Kent for the important role they play in showcasing all it has to offer. I hope English Tourism Week inspires people across the country to take a safe staycation. Every ticket sold, meal eaten, or hotel room booked will help this brilliant sector build back better."
Categories