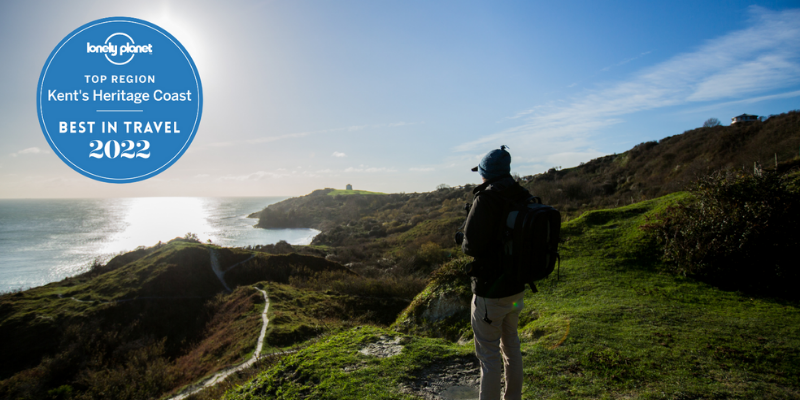 Kent has been placed fourth on a list of the world's best regions to visit in 2022 by Lonely Planet's Best in Travel 2022, which reveals its top ten countries, cities and regions to visit next year. The county of Kent, often referred to as The Garden of England, is the only UK destination to feature in the round-up, with a particular focus on Kent's Heritage Coast.
Kent's Heritage Coast, part of the Kent Downs Area of Outstanding Natural Beauty (AONB), was praised for its commitment to sustainable tourism initiatives. The regeneration of the historic town of Dover, Creative Folkestone, and plans to establish a UNESCO Global Geopark were all recognised within the region's entry.
The global travel publisher also highlighted Kent's involvement in two Interreg funded projects. The EXPERIENCE project supports local tourism and hospitality businesses in developing new, low-environmental impact, year-round tourism experiences including accessibility improvements in the Kent countryside. The UNESCO Sites Across the Channel project aims to boost sustainable development and inclusion through seeking UNESCO designation.
Best in Travel 2022 in Lonely Planet's 17th annual collection of the world's top destinations and must-have travel experiences for the year ahead. Nominations are received from Lonely Planet's vast community of staff, writers and publishing partners, before being whittled down by a panel of travel experts. Each destination is chosen for its topicality, unique experiences, 'wow' factor, and ongoing commitment to sustainable tourism practices.
Deirdre Wells OBE, Visit Kent Chief Executive, said, "We are incredibly excited and hugely honoured to see Kent's Heritage Coast cited as one of Lonely Planet's best travel destinations for 2022. This stretch of our glorious county is home to sandy beaches and iconic and iconic chalk faces, alongside thriving cultural hotspots and an exciting, rolling programme of events.
"Our ongoing work with Kent's tourism businesses and colleagues at the Kent Downs AONB – as part of the Interreg EXPERIENCE project – has allowed us to develop a host of brand-new products for market, which support our destination's green recovery following the significant effects of the Covid-19 pandemic. We are continuing to strive for new, low-impact ways that visitors can experience the Garden of England in-line with changes in consumer demand, and ultimately look forward to welcoming visitors to enjoy Kent's Heritage Coast first-hand in 2022 and beyond."
Nick Johannsen FLI, Director of the Kent Downs AONB Unit said, "We are absolutely delighted that Kent's Heritage Coast has been recognised globally and are honoured that this part of Kent is flying the flag for sustainable tourism in the UK. This is a real testament to the beauty of our landscape and a reminder of how important it is to tread lightly as we enjoy the countryside and coastline.
"Our team and partnership are dedicated to promoting careful, inclusive, sustainable tourism so that the visitor economy benefits us all, our businesses, our visitors, our communities, and the extraordinary landscapes we are here to conserve and enhance. The Lonely Planet's recognition of the landscape and our work is just so important and empowers us to have even greater ambition."
The accolade comes at a pertinent time for Kent's tourism and hospitality sector as it works to rebuild a vibrant and resilient sector for the future. Visit Kent is due to launch a partnership with AccessAble to continue to improve accessibility across the county, as well as a sustainability pledge encouraging consumers to make small changes whilst visiting the destination. Both initiatives are examples of the destination's commitment to ensuring that tourism brings a positive impact for the future.
The Kent Downs AONB are supporting new Changing Places toilets in Kent Country Parks so that disabled people, their carers and families are able to enjoy a day out in the Kent countryside, confident in the knowledge that there are toilet facilities nearby that will meet their needs. The Kent Down AONB will also be launching new bookable sustainable rural tourism experiences and itineraries on their website for visitors to explore wellbeing in nature, delicious food and drink, outdoor adventures, transformative pilgrimage, relaxing tranquility, family fun and more.
Find out more about what's on in Kent at visitkent.co.uk.
Categories