London North Eastern Railway (LNER) has launched its new Azuma trains on its East Coast route between Edinburgh and London. Azuma services will also become available between Glasgow and London from Monday 23 September.
David Horne, LNER Managing Director said, "This week marks the beginning in a new age of rail travel in Britain with our Azuma trains being launched on our Edinburgh route. Azuma trains by LNER offer more seats, better WiFi, more reliability and will ultimately offer faster journey times between the two cities. The Azuma experience is the proud tradition of LNER setting new standards in rail travel. From extra legroom, improved accessibility and more environmentally friendly, our new trains are truly transformational.
"The original Flying Scotsman train entered passenger service in 1862 when the locomotive was introduced between Edinburgh and London. Throughout its 157-year history the service has endured as a symbol of speed and excellence on the East Coast route. We are excited to be continuing that proud tradition with the first Azuma passenger train being our Flying Scotsman service."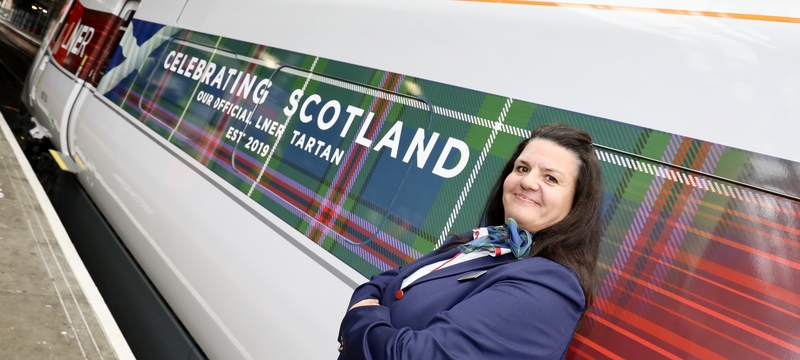 To celebrate the launch of Azuma services to Scotland, LNER unveiled its first official tartan which features colours that represent the regions and communities it serves, including purple for the heather of Scotland, green for the rolling hills and landscape throughout LNER's route, and silver grey to represent the tracks that connect the communities, as well as blue, red, and white to represent Scotland, England and Yorkshire.
The new trains boast a dedicated 'Let's Eat Cafe Bar' in addition to the ever-popular at-seat trolley service in Standard Class. Customers in First Class will enjoy complimentary two-course meals freshly prepared in the on-board kitchens using locally sourced ingredients.
First Class also includes larger tables, reclining seats and both USB and plug sockets at every seat. The seats have been designed to maximise comfort and support posture. A new traffic light seat reservation system alongside clear digital displays above seats in First and Standard Class make it easy for customers to find reserved or available seats on-board.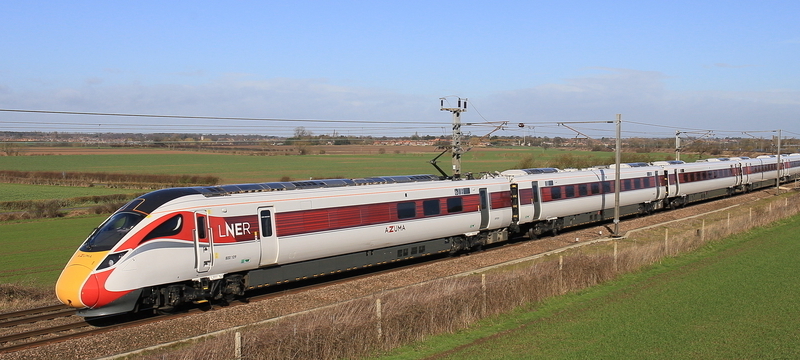 The new trains are also more environmentally friendly – the Azuma fleet will cut harmful emissions by 90% compared to existing high speed trains and also reduce noise at stations and for communities living along the East Coast route. There also accessibility improvements for wheelchair users, clearer exterior and interior passenger information screens and audio announcements, as well as priority seats and universal access toilets.
The new Azuma fleet will help create more regular journey times of just four hours between Edinburgh and London, with the introduction of a new timetable from 2021. All existing trains on the route will be replaced with a fleet of 65 new Azuma trains built in the North East of England.
Categories