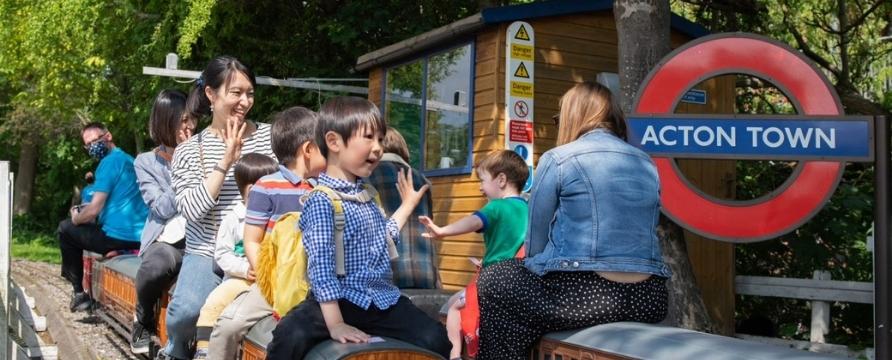 As part of its Climate Crossroads Programme, London Transport Museum has launched 'Act-on It! Open Days, taking place during London Climate Action Week in Acton Town throughout this summer.
On Saturday 2 July and Sunday 3 July, visitors will discover how public transport can help London to become greener. London Transport Museum Depot in Acton will open its doors for visitors to see its many historical artefacts, and one-of-a-kind collection objects that tell the story of London and its transport network over the past 220 years.
London is known globally for its iconic transport network, from the creation of the first underground steam locomotives in 1860, all the way through to the present-day fleet of electric buses. The vehicles, artworks, maps and signage housed at London Transport Museum's Depot track this transport evolution. The 'Act-on It' Open Days will explore how transport technology being rolled out today is transforming how we can sustainably move around the capital.
At the 'Act-on It' Depot Open Days, visitors can take part in a host of interactive activities to discover how even the smallest of acts can make a big difference when it comes to helping the environment.
Visitors to the 'Act-on It' Depot Open Days can also explore London Transport Museum's extensive collection of historic vehicles including Tube trains, buses, trolleybuses and trams. For the first time, the Museum's iconic RM1 Routemaster, built in 1954, will be displayed alongside one of London's most revolutionary buses, the ADL/BYD Enviro 400 Electric, the best-in class bus from route 63.
Families with children aged 5 to 12 can experiment with different ways to power the transport of the future, from wind and solar to other forms of green energy as they create vehicles from recycled materials. These 'Green Street' activities will take place daily between 10:00 to 15:30 in the Family Zone, located on the mezzanine floor of the Depot.
On display throughout the Depot, visitors will be able to marvel at miniature transport displays made entirely of LEGO. The creators of these transport wonderlands will be available to help answer any questions about how to recreate these amazing mini metropolises at home.
Visitors of all ages can try their hand at being a train operator in the museum's Victoria Line driving cab and see two Q stock Tube cars dating from the 1930s which are currently being resorted to their former glory.
The London Transport Museum Depot shop will be offering exclusive gifts and souvenirs, from moquette pattern socks, scarves and cushions, to framed posters, limited-edition prints and authentic Underground signs. Refreshments will be available from Mini Bean Coffee.
Timed tickets to visit the London Transport Museum Depot 'Act-on It' Open Days must be booked in advance online. Adult tickets cost £15 and tickets for children cost £7.50. Children aged 3 and under go free. Concessions are available including local resident tickets for residents of Ealing, Hounslow or Hillingdon. To book, visit the London Transport Museum website.
Categories