London Transport Museum is opening its doors in two locations this October half-term as it welcomes families to track down Billy Brown of London Town at its museum in Covent Garden and its museum depot in Acton Town, west London.
Designed by artist David Langdon, Billy Brown is a vintage cartoon character who appeared on posters across London's buses and tubes in the 1940s. This unlikely wartime 'hero' helped Londoners navigate the capital safely by using catchy rhyming couplets designed to make important safety messages memorable.
Billy Brown became so famous as the Capital's friendly, rhyming guide to traveling safely that he inspired a popular song of the day by Noel Gay with the lyrics, 'Who stood up and saved the town when London Bridge was falling down? Billy Brown of London town'.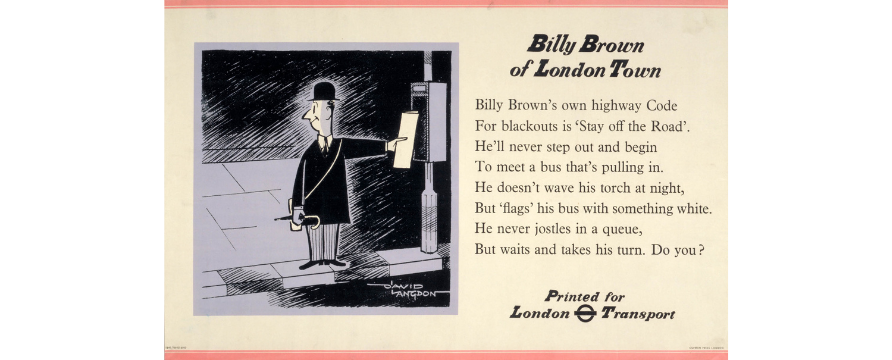 During October half-term, families visiting both the museum in Covent Garden or the museum depot in Acton Town can track down Billy Brown figures amongst the historic buses and trains on display. Along the way, Billy will point out transport gems in the Museum's collection and share some of the playful rhymes he used to encourage passengers to be on their best behaviour on public transport.
Visitors to the museum in Covent Garden will be among the first to explore the newly opened London Transport at War gallery which has undergone a major transformation thanks to DCMS Wolfson Foundation funding, Charles Hayward Foundation, John C Cohen Foundation and LTM Friends.
The new gallery, which opens to the public on 17 October, reveals the role London's transport has played in global conflicts, from keeping civilians safe on the home front to supporting efforts on the front lines. It introduces visitors to the people behind these stories and features posters, photographs and objects from the Museum's collection.
To mark these important historical stories about life in wartime more accessible to visitors of all ages, including children and young people, the gallery features new interactive displays.
An atmospheric and immersive sheltering experience reveals what life was like for Londoners seeking refuge in underground stations during wartime air raids and visitors can make their own tube station shelter ticket.
Visitors can also turn a bus steering wheel to learn about how many London buses went to the Western Front and use a new digital touch screen to discover the stories of women who worked for the Metropolitan Railway in the WW1.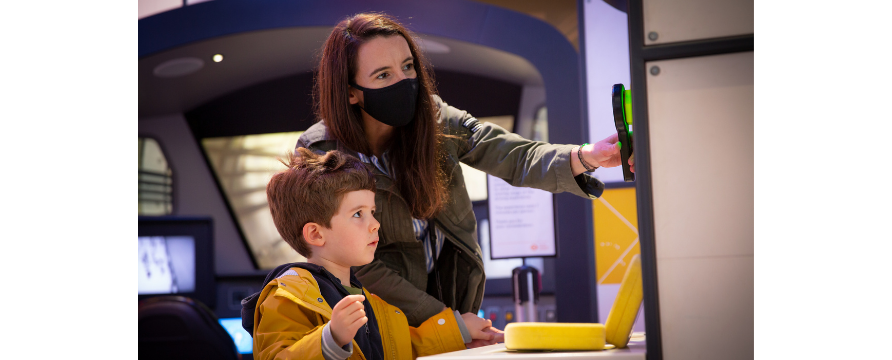 A creative activity pack designed for children aged 4 to 11 is available to purchase in advance for £5 and pick up upon arrival. This includes a craft activity to complete during the experience and fun quizzes and a transport inspired experiment to try out at home.
Between 8:30am and 10am on 31 October, a special Early Explorer session will take place at the Museum in Covent Garden for families with children with special education needs including autism spectrum disorder. Families can enjoy the museum together at a quieter time, free from the general public, and with many of the gallery sounds turned off.
Visitors to the museum depot in Acton Town can track down Billy Brown on 24 – 25 October and between 28 October and 1 November. Daily opening hours will be 10:00am to 16:30pm, with last entry at 15:00. Visitors must book timed entry slots in advance online for both the museum and depot.
London Transport Museum's Depot in Acton Town is one of the only museum stores in the Capital which opens for the public to explore. A one-way self-guided route will allow visitors to discover this Aladdin's cave of more than 320,000 transport treasures, including 70 historic buses and tube trains, vintage signs and curious objects from bygone eras of travel in the Capital.
Visitors will able to walk through the museum's beautifully restored 1938 tube stock train and unusual green and grey Prototype Tube dating from 1986, as well as climbing aboard the top deck of the Chocolate Express, a rare bus which once belonged to a 'pirate' bus fleet operating in the Capital in the 1920s.
The London Transport Miniature Railway will also be open for service with passengers able hop aboard replica models of vintage London Underground trains used on the Metropolitan line between the 1920s and the 1960s. Tickets are purchased separately on the day using contactless payments.
Refreshments will be available to enjoy at both venues, as well as exclusive transport themed toys, games, posters and gifts from the Museum and Depot shop.
London Transport Museum and its Depot have both received VisitBritain's 'Good to Go' standard and have measures in place to keep people safe during their visit. These include queuing systems to help people social distance, hand sanitiser stations throughout the venues, PPE for staff, and more. Adults and children aged 11 plus must wear a face covering when visiting both the Museum and Depot.
For more information or to book tickets, please visit the website.
Categories