TfL /© London Transport Museum's collection
London Transport Museum is taking its Museum After Dark events online for people to soak up some culture and help beat the lockdown boredom.
Three free events will take place on selected Thursdays throughout February and March at 7:30pm to bring audiences a mix of transport trivia quizzes and opportunities to get crafty and creative at home.
The series will start on 11 February will an All the Station Special hosted by the railway exploring extraordinaire duo Geoff Marshall and Vicki Pipe. Viewers can test their transport trivia knowledge – and theirs – in this special London Transport Museum themed edition of their All stations quiz. This free event will be streamed on the All The Stations Youtube channel.
On 25 February, Sarah Hyndman, author of Why Fonts Matter and founder of Type Tasting will host a special London Transport Museum edition of her popular Fantastical Games quiz for free via Zoom, inspired by cheesy 1970s gameshow. Before the quiz, one of the Museum's Senior Curators will be taking all things fonts, typefaces and signage from the Capital's transport history.
On 11 March, participants can get creative by making their own work of art using drawing and collage in an interactive workshop guided by expert art tutors from London Drawing via Zoom for free. One of the Museum's Senior Curators will be providing creative inspiration from its world-class collection of more than 2000 original poster designs by artists including Abram Games, Dora M Batty, Edward McKnight Kauffer and Man Ray. No artistic expertise or specialist equipment needed.  Participants will need a pencil, some paper, scissors and glue for the session.
To reserve a spot at the Fontastical Games and London Drawing After Dark events, please booked online in advance via the website. All the virtual After Dark events are free, but donations to help support London Transport Museum are welcome via London Transport Museum's website.
New tour – Aldwych disused station goes virtual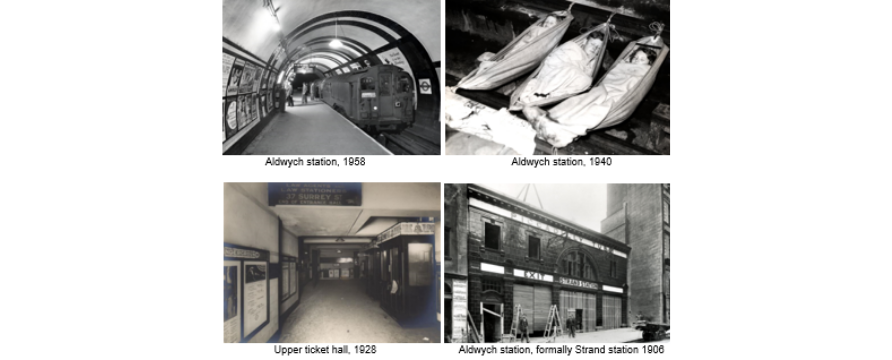 TfL /© London Transport Museum's collection
The Hidden London Aldwych station tour can now be experienced from home with a live tour guide to answer questions. New tour dates will be on general sale from 12 February on London Transport Museum's website. Aldwych, originally known as the Strand, is one of London's most secret places, holding memories of times gone by. Opened to the public in 1907, it was never as heavily used as originally intended and closed nearly 100 years later in 1994.
The station has had a varied history; from providing shelter to Londoners during the Blitz, to being used for film and TV shoots including The ABC Murders (2018), Darkest Hour (2017), Sherlock (2014), and Atonement (2007).
An expert guide – with the help of a gallery of rarely seen archival images, contemporary photos, videos and footage of the station – will lead guests through abandoned platforms and tunnels, lost-in-time ticket halls, original lifts and deserted walkways. Virtual visitors will find out why Aldwych station ceased to be a termini of the Piccadilly line.
Guests on the new virtual Aldwych tour will be permitted to see parts of the station that are no longer accessible on the in-person Aldwych tour, such as the upper ticket hall.
On the online tour visitors will be able to discover the original ticket office windows, the public telephone booths and the ladies' toilets, which are just some of the features dating from the station's opening in 1907. Public telephones were a prominent fixture of Underground stations at the start of the twentieth century, and Aldwych station sported no fewer than six.
The ladies' toilets also contain some original features, such as decency screens and Edwardian wash hand basins. These items have long since disappeared at Underground stations that have remained open.
Chris Nix, Assistant Director of Collections and Engagement at London Transport Museum said, "Our hugely popular Aldwych disused station tour has turned virtual, which means you can discover the secrets of its rich history from the comfort of your sofa.
"Our expert guides will talk you through how these hidden tunnels and frozen-in-time ticket offices and platforms once formed part of the Piccadilly line. Film fans will be intrigued to find out how the station has been used as a film location for recent blockbusters."
"Some parts of Aldwych are off limits to the public so the virtual tours are the perfect way to get as close as possible to the real thing."
The new tour dates for the After Dark events and virtual tours will run until 28 March 2021. To view the dates and time, please visit the London Transport Museum's website.
Categories