Plymouth, Devon and other destinations across England – from Chorley to Dartmouth are preparing for a year of activity to mark the Mayflower's internationally significant voyage. Plymouth's flagship new visitor offer is 'The Box', a £37m heritage attraction in the city centre which will open to the public for the first time on 16 May with the Mayflower, Legends and Legacy Exhibition. Also housing the regions archives and touring content, the exhibition will include a groundbreaking interpretation of this 400-year-old story. Britain's Ocean City will stage a year-round cultural and events programme including theatre, art, cultural and community events. The official commemoration will take place on Plymouth Hoe on 16 September, marking the daythe ship and her passengers departed from England 400 years ago.
Groups and FITs visiting Britain's Ocean City this year can enjoy the new Mayflower themed harbour tours with Plymouth Boat Trips. New city centre walking tours are available and tours with guides and shore excursions have been developed for cruise passengers.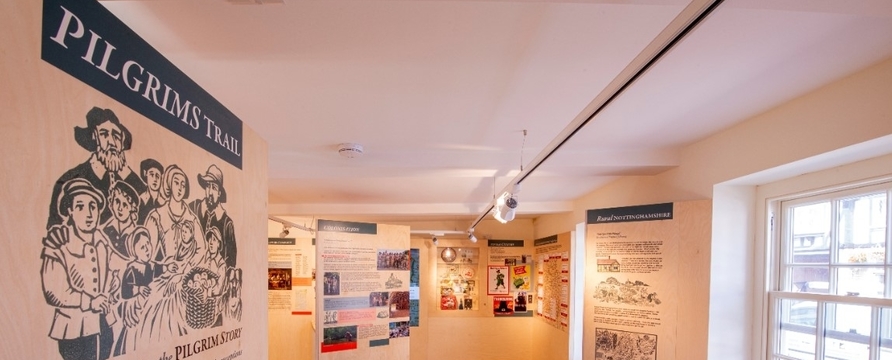 Across England, towns, villages and cities are commemorating the anniversary and their connections to the story with new exhibitions, visitor attractions, themed guided tours and a varied programme of events. In Retford, Nottinghamshire the new Pilgrims Galler is a permanent interactive exhibition and makes the ideal starting point from where to explore the churches and halls in the region.
Mayflower event programme highlights:
Worcester Cathedral – Mayflower Faith and Freedom two day conference,  17 and 18 April 2020
Launching at The Collection, Lincoln – Stories of the Shells of Native America, 3 April 2020 – 17 May 2020
Wampum Belt touring exhibition, Lincoln, 03 Apr 2020 – 17 May 2020
The Box, Plymouth, 16 May 2020
Southampton Mayflower Maritime Festival, 14 Aug 2020 – 16 Aug 2020
Dartmouth Mayflower week, 30 Aug 2020 – 05 Sep 2020
Wampum Belt touring exhibition, The Box – Plymouth, 5 Sep 2020 – 24 Oct 2020
For unique and quirky experiences: 
Hiring a campervan with Wanderlust Campervan; fully kitted out for a comfortable self-drive adventure across the Mayflower destinations of your choice.
Work with a Blue Badge Guide; over 60 Blue Badge qualified guides have attended Mayflower workshop and can bring the story to life for groups and F.I.T.s
Take a trip on the 'Mayflower' locomotive; Steam Dreams have scheduled day trips and short breaks to visit Mayflower destinations on the aptly named steam engine.
European tour specialist, Reformation Tours, (based in the US) have launched a collection of fully commissionable Mayflower themed tours that have been tailored to meet the increased demand from visitors, keen to learn more about the momentous Mayflower journey.
And Select Travel Service based in the UK provide full DMC and ground handling services for any groups of over 12 – and have expert knowledge on the Mayflower locations.
For more information on guided tours, visitor attractions and events and trips, please visit the website.
Categories