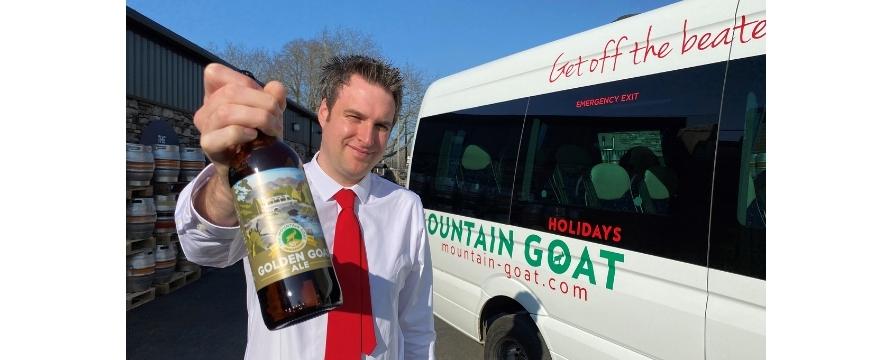 A historic new beer has been created to celebrate the 50th anniversary of iconic Lake District tour operator The Mountain Goat. A thousand litres of 'Golden Goat' ale has been specially brewed by microbrewery Bowness Bay Brewing in Kendal as part of a year-long programme of events to celebrate the anniversary.
The Mountain Goat's Operations Directory Robin Tyson said, "It's wonderful to mark such an important milestone for the company by creating this new beer. It's a triumph of local Lakeland companies working together.
"After a long day out enjoying the Lakeland fells and witnessing some of the most stunning landscapes in the world, we hope it will be the perfect refreshing drink for people to enjoy"
The beer's label depicts a classic image of a Mountain Goat vehicle crossing Ashness Bridge – one of the most photographed packhorse bridges in the Lake District.
Head Brewer at Bowness Bay Brewing, Mike Meaney, said, "We are delighted to be involved with the celebration of The Mountain Goat's 50th anniversary. Golden Goat ale is the ultimate refresher! It has hints of apricot, lime and peach and its irresistible aroma is combined with the freshness of our Lakeland spring water."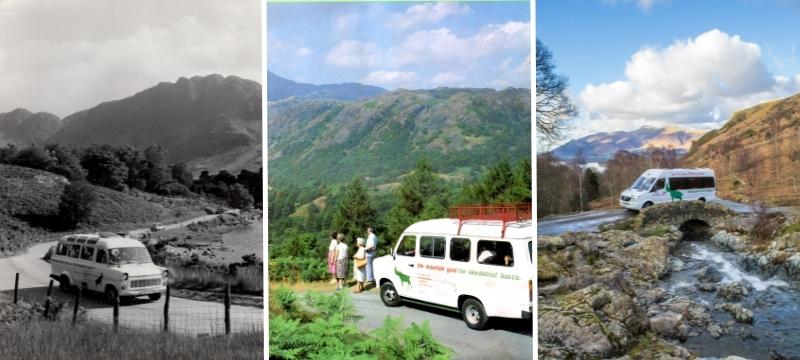 The Mountain Goat began its life on Good Friday in 1972, when the company's first minibus set off on its inaugural trip over the Kirkstone Pass to Glenridding – without any passengers! Since then, the company has flourished and now carries tens of thousands of passengers every year. It's estimated that The Mountain Goat buses have covered enough miles over the last 50 years to travel to the moon and back 40 times.
The Mountain Goat was launched to link communities in the Lake District valleys left isolated by cuts to bus services in rural areas. It soon became apparent that there was a big market for carrying tourists around the area as well as serving local people.
The mainstay of the fleet in the early days were converted Ford Transit minibuses with roof racks to carry backpacks and other equipment. The company now has a fleet of around 30 vehicles, mostly Mercedes Sprinters ranging from 6-seaters to 24-seaters.
"Much of our success over the years is down to our drivers – who are more than just drivers," said Director Stephen Broughton. "They are guides who use their personalities and expertise to educate and entertain passengers whilst showing them some of the most stunning landscapes in the world."
With its fleet of luxury Mercedes Sprinters, Mountain Goat is known for its exciting range of guided sightseeing tours and provides exclusive group hire, walking guide services, the Cross Lakes Experience bus service, and touring holidays in the Lake District and the North of England. For more information visit www.mountain-goat.com.
Categories