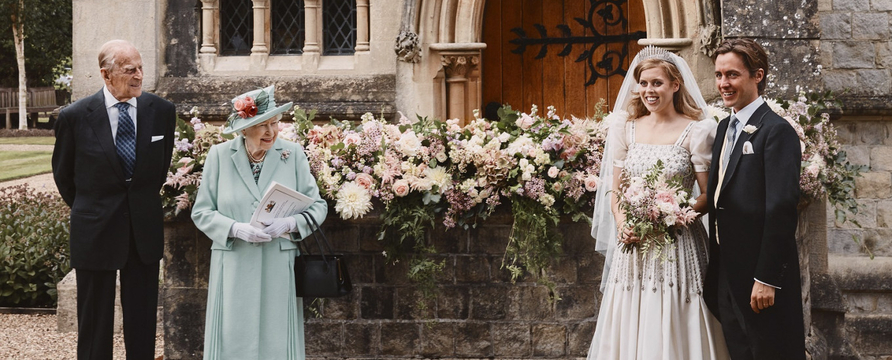 Buckingham Palace / © Benjamin Wheeler 2020
Princess Beatrice of York's wedding dress, first worn by Her Majesty The Queen in the 1960s is now on display at Windsor Castle until 22 November 2020. The display also features Princess Beatrice's wedding shoes, made by Valentino and previously worn on other occasions including the wedding of The Duke and Duchess of Cambridge in 2011.
Designed by renowned British fashion designer Sir Norman Hartnell, the dress was loaned to Princess Beatrice by Her Majesty The Queen for her wedding to Mr Edoardo Mapelli Mozzi on 17 July 2020. It is made of ivory peau de soie taffeta, and the skirt is trimmed with a band of ivory duchesse satin. The dress is an example of Hartnell's signature Crinoline silhouette and love of embellishment, as seen in the geometric hand embroidery in crystals and diamantes over the bodice, waist and hips.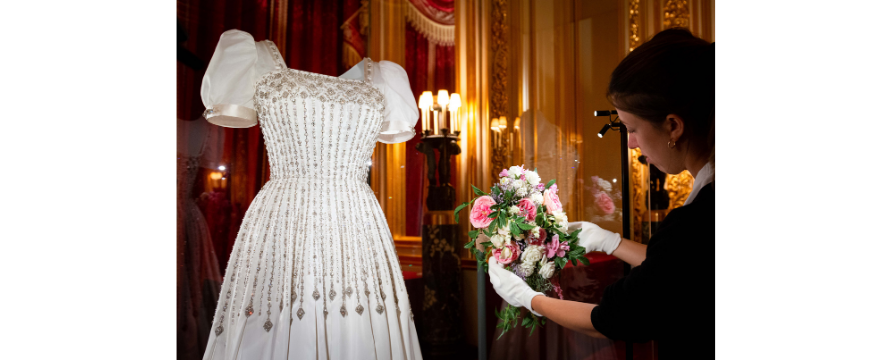 Royal Collection Trust / © Her Majesty Queen Elizabeth II 2020
The wedding dress was altered for Princess Beatrice under the direction of Angela Kelly, Personal Advisor, Dresser and Curator to The Queen, and the British fashion designer Stewart Parvin. The full-skirted silhouette was softened to give a more contemporary, simplified shape, and the underskirt and petticoats were recreated and bound with silk tulle. Short sleeves of triple organza were added to the straps and embroidered with vintage diamantes to match the original Hartnell embroidery design. Each alteration made to the dress is reversible.
Sir Norman Hartnell first became couturier to Queen Elizabeth (the future Queen Mother) in 1937 and then to her daughter, Her Majesty The Queen, who awarded him a Royal Warrant in 1957. Hartnell was responsible for designing many of the outfits worn by The Queen for State events, tours and family occasions throughout the first half of her reign, including her wedding dress in 1947 and continued to work for Her Majesty until his death in 1979.
The Queen first worse the taffeta gown for a State dinner at the British Embassy in Rome during a State Visit in 1961. The dress was worn again to the London premiere of the film Lawerence of Arabia in 1962 and for the State Opening of Parliament in 1966. The design of the dress is in keeping with The Queen's predominant style of State evening wear in the 1960s – a full-skirted silhouette, often executed in shades of ivory to provide a perfect foil for rich embroideries and the brightly coloured broad of ribands of orders of insignia.
For more information and to book your tickets to see the display at Windsor Castle, please visit the website.
Categories