From 8 July, Salisbury Cathedral will once again welcome visitors through its doors. Bookings will need to be made in advance, and a one-way system has been introduced to help manage numbers and keep visitors and staff safe.
For the first time, visitors will be able to experience the magnificent multimedia exhibition Celebrating 800 Years of Spirit and Endeavour in its entirety. To date, only the exterior work from this contemporary art exhibition, which features twenty pieces by major 20th and 21st century artists such as Grayson Perry, Henry Moore, Shirazeh Houshiary, Antony Gormley and Eduardo Paolozzi, has been accessible. The interior exhibits have only been available to view online via the virtual tour on the Cathedral website.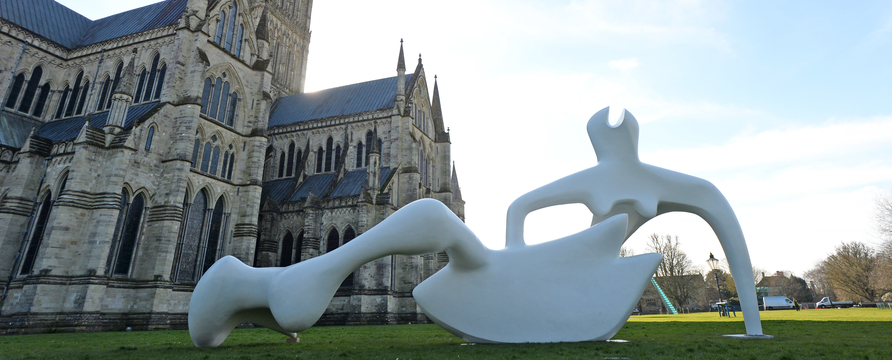 Celebrating 800 Years of Spirit and Endeavour was originally planned as one of a series of events taking lace across Salisbury in 2020 to celebrate the Cathedral's move from Old Sarum and the laying of the first foundations stones on its present site. The coronavirus pandemic and subsequent lockdown meant that many of these events were cancelled or moved online.
Welcoming visitors to the exhibition, Curator and Cathedral Visual Arts Adviser Jacquiline Creswell said, "I am thrilled that we can share this very significant exhibition at last. The virtual art tour has been a real succss, with nearly 14,000 visits since we launched it, but nothing beats seeing the art for real. I would encourage everyone to come along and enjoy the range and quality of work on show, and through it celebrate the spirit and ambition of the builders who created the spirit and ambition of the builders who created this remarkable cathedral eight centuries ago."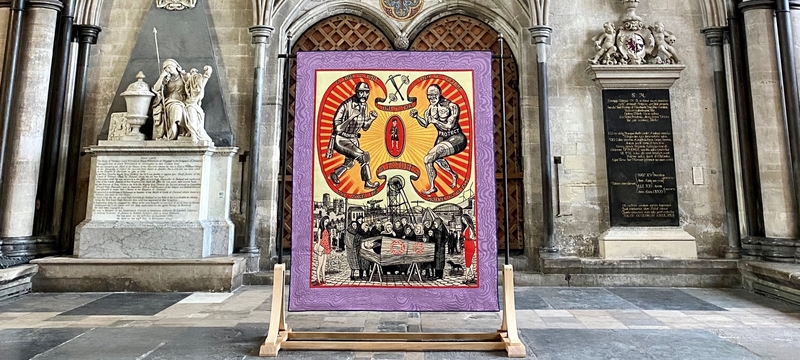 Director of Development and Communications Jane Morgan said, "We are really looking forward to welcoming visitors once again, and returning to some form of normal or 'new' normal. With the art exhibition and the story of the Cathedral's move all under one roof, visitors will find a lot to enjoy – and our visitors are vital to our survival. We receive no regular funding from Government in normal times, or from the Church, so we have felt their absence greatly in recent months. They play a key role in keeping this national treasure going.
"The safety of visitors, staff, volunteers an our community is also essential. Along with other measures, the one-way route that has been put in place ensures that as much of the Cathedral as possible is available to visitors whilst keeping everyone as safe as possible. The new exit via the Works Yards is a bit of a bonus, affording visitors a tiny glimpse of life behind the scenes as they leave the Cathedral."
The Chapter House, which houses the 1215 Magna Carta will remain closed for the timebeing, but a near perfect facsimile will be on display in the main building. Worksheets and a special trail are available for children visiting the Cathedral and can be requested on arrival. The Bell Tower Tea Rooms will be open to provide takeaway services on the Cathedral lawns, however the shop and refectory will remain closed for the timebeing although plans for their reopening are underway.
Visitors to the Cathedral must book online; details of the Cathedral's COVID-19 safety measures are available on the website.
Categories