On 11 October The Original Tour unveiled London's first ever 100% electric hop-on hop-off sightseeing bus outside Westminster Abbey. The new buses offer city-trippers a carbon-free carbon copy of the company's famous tours, in a move welcomed by London's Deputy Mayor for Environment and Energy.
Green in colour and concept, the 12-metre double-decker was revealed in front of the iconic London landmark before taking its first passengers across Parliament Square on a tour of the capital's standout attractions. It will run on The Original Tour's Yellow route, taking in sights and scenery from St Paul's to The Shard and Shakespeare's Globe to the Gherkin.
The move comes as the Mayor of London, Sadiq Khan, is implementing bold measures to reduce London's air pollution, including the world's first Ultra Low Emission Zone (ULEZ) which will start in central London on 8 April 2019.
London's Deputy Mayor for Environment and Energy, Shirley Rodrigues said, "To help tackle the air pollution health crisis in London, we have taken bold action to 'green' the bus fleet and cut toxic vehicle emissions, and it's fantastic that we now have the UK's first fully electric sightseeing bus on the capital's streets. With six months to go until the introduction of the Ultra Low Emission Zone, electric vehicles are growing in popularity, and people are more aware than ever of the harmful pollution older buses and vehicles can emit. I want to congratulate The Original Tour on the first of many brilliant green sightseeing buses."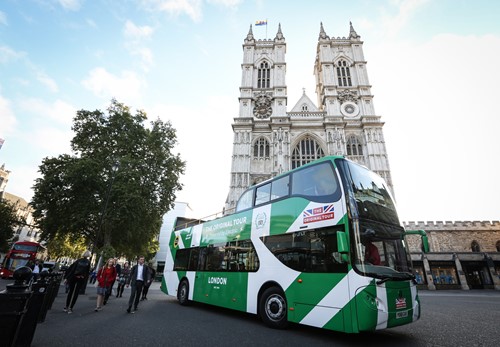 The new silent-running vehicle, wrapped in a unique green edition of the brand's Union Jack livery, has a range of 150km – the equivalent of six loops of The Original Tour's Yellow route. It will carry up to 75 passengers at a time, seven days a week, and on an average day will make 125 stops on a single charge. It will be charged overnight at the operator's Grade II listed Wandsworth depot; it takes 4.5 hours to fully charge the battery, after which the bus can run for up to 11.5 hours.
Jane Lewis, Managing Director of The Original Tour, added: "We've always been daringly original, creating memories that last a lifetime for people from all over the world. Today they are increasingly eco-conscious and we're responding to exactly that. The Original Tour has been bringing the capital's iconic sights to life for longer than anyone else but today we can point to a landmark of our own. This new 100% electric hop-on hop-off open-top sightseeing bus represents the future not only for our brand but for sightseeing here in London."
As part of its fleet renewal programme, The Original Tour will be gradually converting its buses to zero-emissions vehicles, with three more electric buses planned throughout 2019.
Categories