The Painted Hall at the Old Royal Naval College, Greenwich, reopened earlier this year following a two-year conservation project to restore it's magnificent painted interior.
The newly restored, award-winning Painted Hall has day beds to encourage visitors to spend time appreciating the spectacular ceiling, and new multi-media guides are available in seven languages, along with expert talks and interactive packs for children. History buffs can explore the room where Admiral Lord Nelson's body lay in state and can see the recently discovered Tudor foundations of Greenwich Palace in the King William Undercroft, which also houses a new cafe, shop and interpretation display.
The iconic domes of the Old Royal Naval College are set in stunning grounds with a panorama view along the Thames. Open all day every day, the gardens are perfect for visitors to relax, bring a picnic, or enjoy events such as Luna Cinema's open-air movie showings. Screenings this summer include Les Misérables, The Greatest Showman, and Bohemian Rhapsody.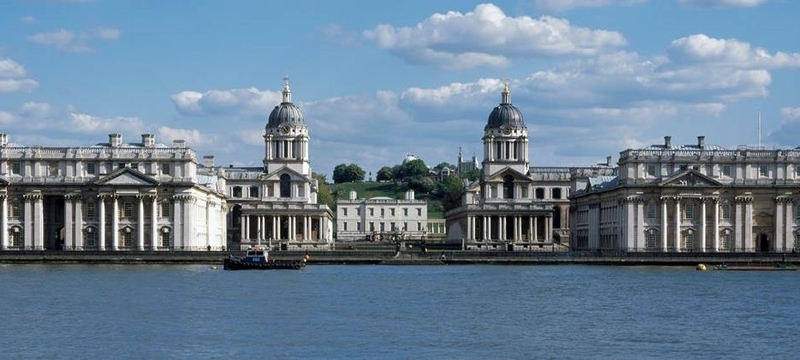 From its beginnings as Henry VIII's Greenwich Palace, to becoming a hospital for retired sailors and then a training facility for Naval Officers, Sir Christopher Wren's iconic twin domes at the Old Royal Naval College are full of history. Its centrepiece – the Painted Hall – was designed by Wren as a dining room and completed in 1705. Its vast decorative scheme by artist Sir James Thornhill took 19 years to complete and tells the story of Britain's triumphant naval power.
Entry tickets to the Painted Hall are valid for a year for return visits and includes a 45 minute – 1 hour guided tour which also includes the Water Gates, Grand Square, and Chapel. There is also an opportunity to play a game of Victorian skittles in Skittle Alley, and the brand-new multimedia guide provides an informative and playful introduction to the paintings. Visitors looking for a more sensory experience will enjoy a collection of 13 touch objects inspired by characters and items depicted on the ceiling, such as a replica of Athena's shield.
A 'pay as you wish' initiative on the first Wednesday of each month ensures the Painted Hall remains as accessible to as many people as possible, while entry is free for children all year round.  The Painted Hall is now also part of The London Pass. For more information please visit the website.
Categories