Visit Bristol have announced their 2020 menu of culinary festivals and events:
The Bristol Dal Festival (21 – 31 March) is one of a series of annual food and drink festivals that reflect the city's diverse and independent spirit. From Indian dal and Malaysian dalcha to Italian lentil stew and very British mushy peas, this celebration of cooking with pulses explores the flavours and traditions that go with these versatile, international ingredients. The event will feature recipes, talks, demos, a culinary Dal Trail and a long list of Bristol dining experiences.
The 23rd CAMRA Bristol Beer Festival (19 – 21 March) takes place this year at Brunel's Old Station at Temple Meads and promises to showcase around 140 ales from around the country, including some of Bristol's own (check out the festival's LocAle bar) alongside cider and perry – a West Country special.
Eat Drink Bristol Fashion Food Festival (2 – 3 May) is a collaboration between Josh Eggleton (the Bristol chef-patron behind Michelin-starred Pony and Trap), Valley Fest founder Luke Hasell and Team Love (the creators of two of Bristol's most successful live music festivals Love Saves the Day and the Downs Festival). Eat Drink Bristol Fashion will take place at Castle Park, in the centre of the city. In addition to an exciting 48 hours of food and feasting there will demos, talks and tastings hosted by leading chefs such as Tom Kerridge, Peter Sanchez Inglesias, Romy Gill and others, plus musical performances from some of the city's best live acts and DJs.
Annual Bristol Craft Beer Festival (12 – 13 June) returns to its usual home at the Lloyds Amphitheatre, helping to consolidate Bristol's reputation for fine ales. With around 15 micro-breweries and a growing community of independent pubs and brewery tap rooms, Bristol is widely recognised as one of Britain's leading beer cities. At the festival, try beers from around the world alongside local brews from the likes of Bristol Beer Factory, Left Handed Giant, Lost & Grounded, Wild  Beer, Moor Beer and Wiper and True served with a tasty line-up of Bristol street food.
Bristol Food Connections (18 – 28 June) The citywide food fest returns to celebrate Bristol's growing food scene. A community festival with bold aspirations, Food Connections shines a light on the city's culinary diversity in a packed programme of niche events which, in previous years, have featured coffee raves, church bake-offs, banquets, workshops, cookery demonstrations and markets.
Jekka's HerbFest (3 – 5 July) celebrates all things herbal in a new summer event taking place at Jekka's Herbetum at Alveston near Bristol. In line with the regular masterclasses held at this family-run herb farm, visitors will pick up tips on cooking with herbs, growing them, herbs in health and wellbeing and herb-garden design. Talks, workshops and demonstrations will be presented by featured experts including two-Michelin-star chef, Nathan Outlaw, Blue Peter gardener, Chris Collins and Simon Mills, an acclaimed international speaker on a range of topics, including herbal medicines.
The Coffee House Project, The Passenger Shed at Temple Meads (5 – 6 September) for another caffeine-fuelled coffee love-in that celebrates the art of making a cup of café. Expect artisan roasters, baristas, gourmet street-food, workshops, tastings, music and espresso martinis.
New openings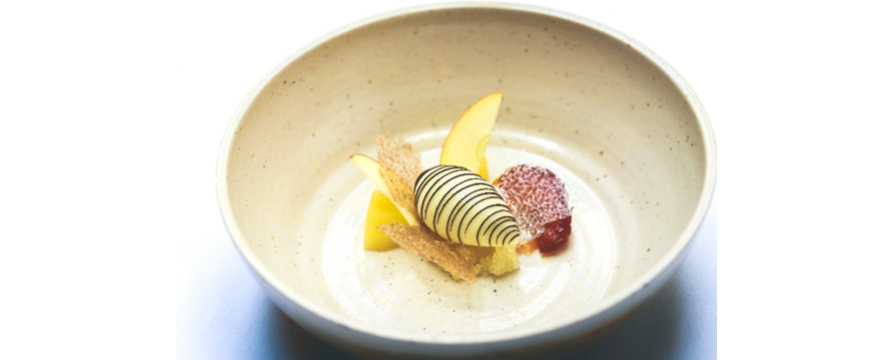 Sweet dish: Casamia
New from the Sanchez Brothers, the team behind award-winning Casamia (see above) and Pacos Tapas, is a third Bristol restaurant – simply called The 3RD. Expected to open in March, the new enterprise will sit between the two existing Michelin-starred restaurants offering a chilled bar-café combining coffee shop, bar and eatery.
Freddy Bird, one of Bristol's best-known chefs, recently opened Little French – pretty much what it says on the tin: a small, neighbourhood restaurant with strong French influences. The former head chef at the Lido, Freddy has appeared on Channel 4's Hidden Restaurants alongside Michel Roux., and Little French, in Bristol's Westbury Park, has already wowed critics ('the best of rural France,' according to The Times).
Food experiences
Travellers who are planning to visit Bristol and want to know where to find a creole burger, Japanese dumplings, the best sourdough pizzas, local cheeses and home-made cakes – the Bristol Food Tour is the place to go. With three tours on offer (each covering a different region of the city), this is a great introduction to Bristol's diverse food scene.
Visit Bristol's website have also recently created a dedicated section on experiences – including some interesting ways to sample the city's food and drink. Head for the Tasting Table in historic vaulted cellars at Avery's Wine Merchants – selling fine wines since 1793.  Visitors can try a vegan afternoon tea at Heartfelt Vintage, a brewery tour with Bristol Hoppers, or a Cocktail Masterclass at Ashton Gate Stadium.
For more food experiences, please visit the Visit Bristol website.
Categories