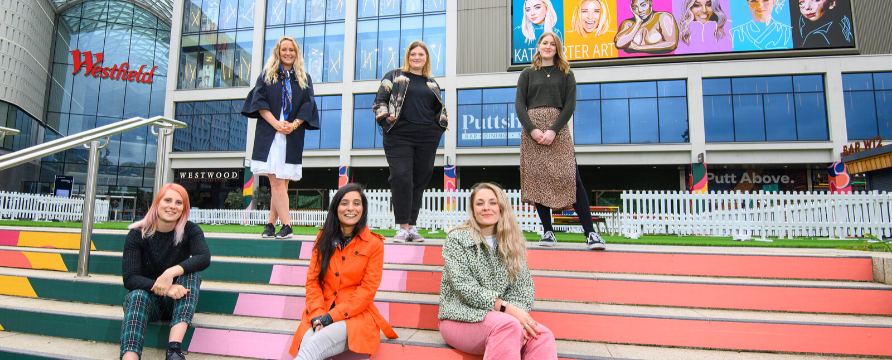 Westfield is giving back by supporting the arts industry across the nation, and backing a campaign by artist Laura Nevill entitled #LetsDoLondonBetter, which aims to raise profiles for local artists and generate support across the UK for creative communities to flourish.
Partnering with Nevill as "Curator in Residence", Westfield, along with Out of Home specialists, Ocean Outdoor, will provide value-in-kind media and space packages which would normally cost commercial brands £1 million, to some of Britain's most talented emerging creatives to showcase their artwork at Europe's two largest shopping centres. The campaign kicks off with 34 artists including Ashton Attzs, Emmy Smith and Jordan Robertson who have been selected by Laura to exhibit across almost 30 key large formal digital advertising sites including London's biggest full-motion retail screen at 220m², physical stores and physical exhibition space with support across its social channels, providing talent with mass awareness to the public. The campaign will also run on a major outdoor advertising site facing both central London and Westfield bound traffic on the A40 motorway.
The move comes as Westfield's latest How We Shop research revealed that almost three quarters (74%) of consumers want to see retailers adapt to their local areas. Westfield centres are always looking at ways to better support their local communities and bring new and engaging experience to their visitors and art is one of the many ways this can be done.
The #LetsDoLondonBetter campaign was inspired by the announcement of the Mayor of London's Lets Do London campaign which sparked Laura's question around how emerging artists could benefit from showcasing their art in busy London locations. Ensuring emerging artists are recognised and fairly paid for their work is a key driver for Laura and with 6.3 million visitors since reopening, she hopes to expose the artists' work to audiences and help boost their sales and commissions. The curated selection at Westfield centres will hero a "positivity"  theme with a particular focus on supporting mental health and inclusivity.
Laura Nevill, Westfield's "Curator in Residence" for #LetsDoLondonBetter said, "Partnering with Westfield to help artists reach such a large audience is a brilliant result that has emerged from my #LetsDoLondonBetter campaign. I am also pleased to be curating so many talented individuals and helping to give them the platform they deserve. It's been a challenging year to say the least and the arts industry has suffered throughout so seeing such a positive response to what started as a personal Instagram post is phenomenal."
Chris Lynham, Head of Media and Client Operations UK/Europe, Unibail-Rodamco-Westfield said, "The Mayor of London's "Let's Do London" campaign is great news for arts and culture in our capital and we think Laura's mission to extend and the spotlight is even more emerging artists across the country is wonderful. When we heard about Laura's campaign, it instantly struck a chord with us. These fantastic artworks highlight incredible talent and celebrate the resilience of the creative community during the pandemic. We're delighted alongside our media partners Ocean Outdoor, to give these artists access to the millions of visitors who come to our centres each month, through a host physical and digital touchpoints."
The campaign has taken over the screens and later in the summer will host shippable exhibitions and experiences. Westfield hopes that the mass exposure being provided to the artists' will create a platform for consumers to shop the artist' products and engage with them through their social channels.
This initiative is one of many projects that Westfield carries out to support the arts industry. Other recent art and start up projects include a mural collaboration with a roster of artists including Lois O'Hara, Rachel Joy Price and Zoe Power, as well as Westfield's recent Side Hustle Heroes campaign to support local online business born in Lockdown, Westfield East Bank Creatives Future Fund and more.
The full list of artists are taking part can be found here (including a link to their channels).
Categories