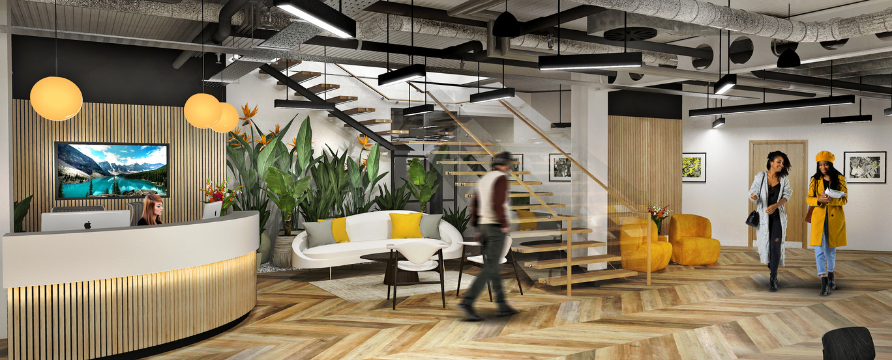 Westfield London have announced a new signing with co-working operator, Venue X. The new purpose built office space occupies over 19,000 sq.ft and provides users with technology enhanced space in the heart of Europe's largest retail destination.
Venture X, led by Tom Foster and Andrew Rose in the UK and Ireland, has secured its second location at 1 Ariel Way, Westfield London, with an agreement for a long-term lease commitment. The company, which originally started in Naples, Florida, is part of the United Franchise Group.
The co-working operator will be the first of its kind at Westfield London, which continues to attract the best concepts and stores for customers across a wide range of categories. Venture X White City will have leading technology including podcasting-ready rooms, hybrid meeting rooms enabling digital multicast-screen conferences, in addition to private offices, hotdesking space and shared entertaining spaces with high-speed WiFi. There will also be wraparound terraces and private terraces to some private offices within a brand new building.
Andrew Ross, CEO of Venture X UK & Ireland said, "This is game-changing news for us at Venture X, it demonstrates our commitment to growth in the UK and our vision for co-working. The pandemic in many ways has been disastrous, but it has also highlighted the importance of flexible working and co-working spaces. We are in the midst of a workplace revolution and Venture X is the fastest growing co-working franchise. Like our space in Chiswick Park, we suspect Venture X will appeal to local entrepreneurs, SMEs and corporates looking for project-led space with a 'plug and play' ready HQ to attract the best talent. Westfield London is iconic, continuously transforming its offer and there is a lot of energy in the wider White City area which we hope to be part of its story moving forward."
Scott Parsons, Chief Operating Officer UK, Unibail-Rodamco-Westfield said, "Since opening in 2008, Westfield London has been an key partner of the local community and a catalyst in the transformation of White City and Shepherd's Bush into a world-class place to shop, live and work. With lifestyles transforming and ways of working becoming more flexible, welcoming Venture X to our offices at 1 Ariel Way expands the shared work space offering within the White City opportunity area and creates an exciting new opportunity for London workers. The offices, overlooking Westfield Square with views of TVC will have state-of-the-art facilities attracting creative, tech and entrepreneurial businesses. We have no doubt our new neighbours will enjoy everything the centre has to offer, including over 50 restaurants and leisure operators 300 stores right on their doorstep. We look forward to welcoming Venture X to Westfield London!"
For further information on Venture X, please visit the website. 
Categories