FULLY BOOKED!
On Thursday 16 & Friday 17 September, in partnership with Marketing Manchester, we will be bringing buyers and suppliers from across the UK's inbound tourism industry back together for the first time since March 2020, and we can't wait!
The Annual Convention is a fantastic opportunity for the inbound tourism industry to come back together, share experiences and ideas, and discuss how the industry can build back better over the coming months. With plenty of networking opportunities across all three days, the Annual Convention is the perfect place to discover the UK's top tourism products, understand the latest insights, make new contacts, generate new business, and strengthen existing relationships.
Taking place at the spectacular Kimpton Clocktower Hotel in the heart of vibrant Manchester, #UKiCon21 will feature an exciting, revamped, hybrid programme themed 'Build Back Better', that will include two days of topical industry discussions, inspirational keynotes, a themed networking evening, an extended B2B workshop, and a fantastic range of familiarisation visits.
With a focus on supporting the industry as it maps out a path to recovery, the Convention will offer tailored content for buyers and suppliers, including destination updates, local supplier meetings, and topical educational workshops to help businesses build back better.
To maximise business opportunities for all attendees, an additional virtual B2B workshop will be held on Friday 24 September, accompanied by exclusive virtual content including market seminars and national tourist board updates.
Please note that the Autumn General Meeting and UKinbound Awards for Excellence will take place separately from Annual Convention.
PROGRAMME
DOWNLOAD THE FULL PROGRAMME HERE >>
Thursday 16 September
10:00    Registration
11:30    Welcome from UKinbound & Marketing Manchester
11:50    Keynote Address – Hamish Taylor, Former CEO of Eurostar and Sainsbury's Bank
12:20    Plenary Sponsor Product Update – Warner Bros. Studio Tour London & Harry Potter and the Cursed Child
12:30    Lunch
13:45    Buyer & supplier breakout sessions
15:15    Refreshments
15:45   Tourism Minister Address – Nigel Huddleston MP
16:00  Panel debate – moderated by Graham McKenzie, Travelmole
– Sheona Southern, Managing Director, Marketing Manchester
– Bernard Donoghue, Director, ALVA
– Rebecca Brooks, Non-Executive Director, Scottish Tourism Alliance
– Kate Nicholls OBE, Chief Executive, UKHospitality
– Kurt Janson, Director, Tourism Alliance
16:45     UKinbound Annual Convention September 2022 destination reveal
19:00    Informal themed networking evening
Friday 17 September
09:30    B2B workshop registration & refreshments
09:50    B2B workshop welcome presentations
10:00-  B2B workshop with lunch & refreshment breaks
16:30
Please note:
– Appointment times will be provided on delegates' B2B itineraries. The workshop will include three free-flow sessions
– Local suppliers will exhibit during the workshop
– Travlaw will be running a Legal Clinic for delegates who wish to discuss any legal issues, with no obligation. Drop-in sessions available throughout the day
Friday 24 September
07:30     On-demand content available for download
09:00     Virtual platform opens for networking
10:30     Welcome address
10:45     Virtual B2B workshop, with lunch & refreshment breaks.
– 16:00
WITH THANKS TO: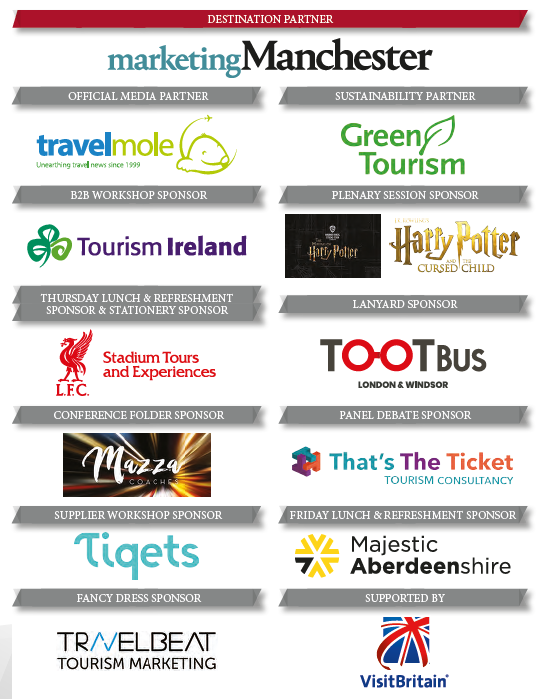 TERMS & CONDITIONS:
1. Delegate rates include attendance to all formal activities at Annual Convention 2021 (live and virtual), all meals and transfers during the programme. Travel to and from the Convention is not included and delegates are recommended to book their journeys at their earliest convenience. UKinbound has partnered with Avanti West Coast to provide delegates with discounted train travel. More details can be found on your booking confirmation.
2. Upon receipt of your booking form, a member of the UKinbound Accounts Team will be in touch within five working days to issue an invoice. Delegate places will be confirmed upon receipt of payment only.
3.Cancellations must be received on or before Monday 2 August 2021 and a cancellation charge of 50% of your ticket price will apply. Cancellations received after this date will not be entitled to any refund and any outstanding payment will be required.
4. VAT will be added to all delegate rates at 20%. All payments must be received by no later than Friday 20 August 2021. UKinbound reserves the right to deny delegate attendance should any costs related to this booking be outstanding at the commencement of Annual Convention 2021.
5. Companies applying for a Member Rate must be a fully paid member of UKinbound for the 2020/2021 membership year at the time of Annual Convention. If membership has lapsed, not been renewed, renewal payment not been received or if the company has not yet joined the association, UKinbound reserves the right to charge the difference between the member rate stated above and the non-member rate.