We are looking forward to taking our Annual Convention to Aberdeen from 28 – 29 September, in partnership with VisitAberdeenshire.
We are delighted to bring our members together for two days of business appointments, networking, workshops, fam trips and engaging discussions on critical issues facing the industry today.
This year, we will also be bringing back the UKinbound Awards for Excellence to celebrate the resilience and innovation of our fantastic industry. Some of the programme highlights include:
Keynote Speaker – hear from Amar Latif, an inspiring broadcaster, entrepreneur and adventurer, and founder of Traveleyes, a touring company specialising in supporting blind travellers.
Panel Discussion – moderated by Graham McKenzie from TravelMole and featuring Tom Jenkins, CEO, ETOA; Marc Crothall MBE, Chief Executive, Tourism Alliance; Karen Robertson, Managing Director, JacTravel & Louise Dando, Marketing Director, English Heritage.
Full Day B2B Workshop – an opportunity to generate new business with one-to-one scheduled appointments and free flow sessions.
Industry Updates – hear the latest plans from Patricia Yates, VisitBritain on rebuilding inbound tourism and explore where the industry is heading with David Edwards from Scattered Clouds.
Networking – join us for an informal networking evening at the Brewdog DogTap Ellon, including an optional fancy dress competition.
Awards for Excellence Gala Dinner – a celebration of the UK's fantastic inbound tourism industry after a difficult two years with the return of our glittering Awards for Excellence Gala Dinner.
Fam Trips – opportunity to explore the region of Aberdeen and Aberdeenshire, and discover travel trade ready, bookable itineraries.
PLEASE CLICK HERE TO VIEW THE EVENT PROGRAMME* >> 
*subject to change
  INTRODUCING KEYNOTE SPEAKER AMAR LATIF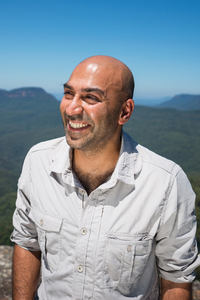 Amar Latif is a broadcaster, entrepreneur and blind adventurer. He is the founder of Traveleyes, the world's first tour operator specialising in supporting blind travellers, and has presented a number of documentaries including the BBC's critically acclaimed Beyond Boundaries. After losing 95% of his eyesight by 18 years old, Amar challenged preconceptions to work his way up to Head of Commercial Finance for BT. Realising his passion lay in travel, he turned to face new goals and challenges. Amar has since trekked 220 miles through Central America and climbed a 1,500m active volcano. His company Traveleyes has helped create a more accessible world for people with visual impairments and has given millions of blind people the opportunity to explore and experience the world.
FAM TRIPS
VisitAberdeenshire will be hosting fam trips for delegates to explore the best of the region. Buyers are invited to attend an overnight fam trip, taking place from Friday 30 September – Saturday 1 October.
All fam trips will end at Aberdeen Airport at around 14:00.
Please click here for more details >>
BOOK YOUR PLACE TODAY!
BUYERS FIRST DELEGATE: £350 + VAT
BUYERS ADDITIONAL DELEGATE: £200 + VAT
~
SUPPLIERS FIRST DELEGATE: £500 + VAT
SUPPLIERS ADDITIONAL DELEGATE: £400 + VAT
Tickets include access to the full Convention programme, meals and refreshments, transfers between venues and all fam trips. Please note, accommodation will not be available to book with your ticket, however delegate rates are available from our UKiCon22 partner hotels – Hilton Aberdeen TECA and Aloft Aberdeen TECA.
We are also pleased to be able to offer delegate rates for travel on Loganair, Scotrail and LNER.
Please click here for details on how to book your accommodation, travel and other key information >>
To book your place please refer to your event invitation email or contact [email protected].
SPONSORSHIP OPPORTUNITIES
Want to enhance your presence by sponsoring an element of UKiCon22? Opportunities start from just £500 – click here to download the sponsorship pack or contact Rob Way for more information.
WITH THANKS TO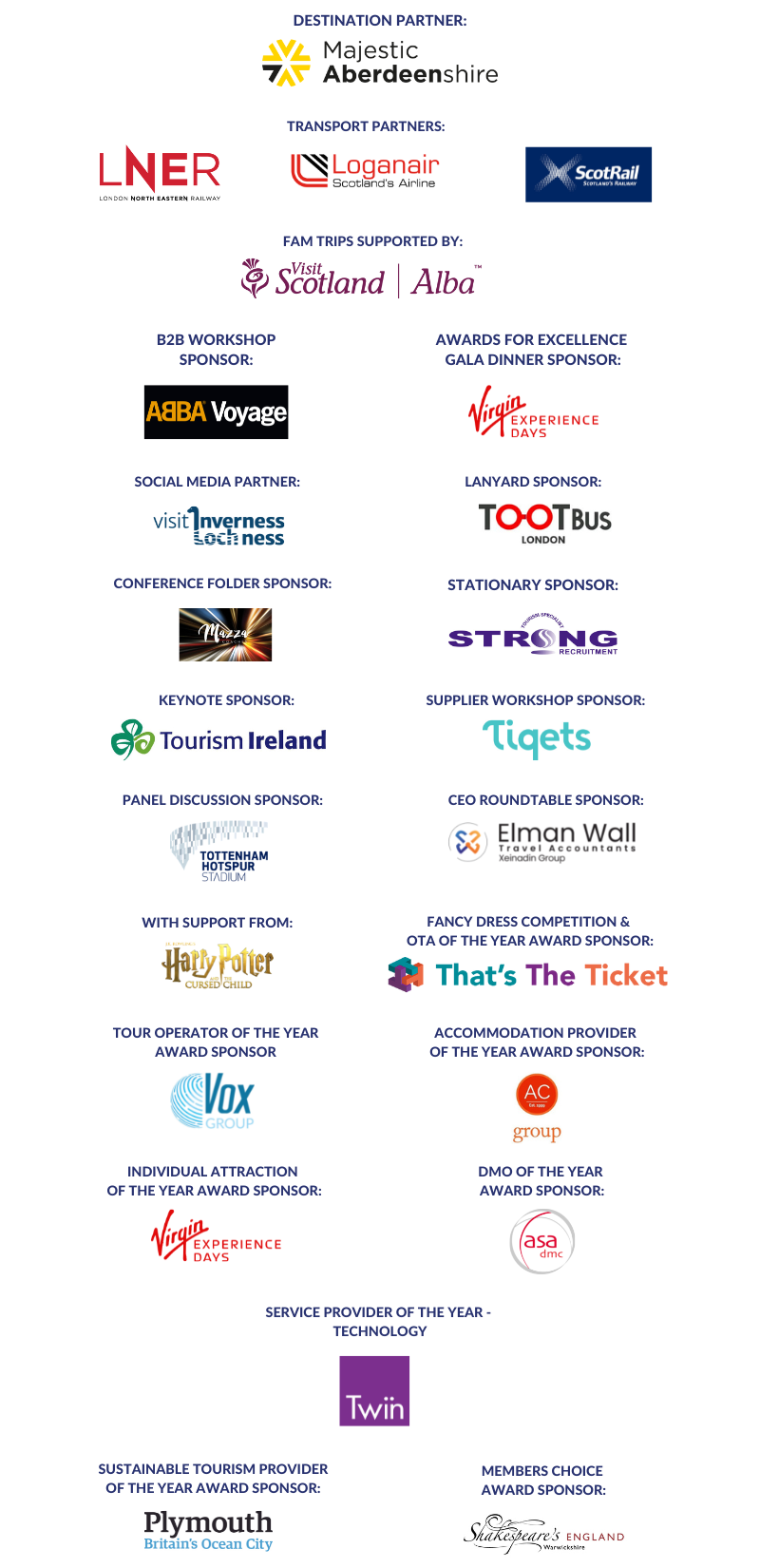 TERMS & CONDITIONS
Upon receipt of your booking form, the UKinbound Accounts Team will be in touch within five working days to issue an invoice. Delegate places will be confirmed upon receipt of payment only.
Cancellations must be received on or before Friday 12 August 2022, and a cancellation charge of 50% of your ticket price will apply. Cancellations received after this date will not be entitled to any refund and any outstanding payment will be required.
VAT will be added to all delegate rates at 20%. All payments must be received by no later than 31 August 2022. UKinbound reserves the right to deny delegate attendance should any costs relating to this booking be outstanding at the commencement of Annual Convention 2022.
Companies registering to attend Annual Convention 2022 must be a fully paid member of UKinbound for the 2021/2022 membership year at the time of Annual Convention. If membership has lapsed, not been renewed, renewal payment not been received or if the company has not yet joined the Association, UKinbound reserves the right to deny delegate attendance or charge a supplementary fee of £700 + VAT.